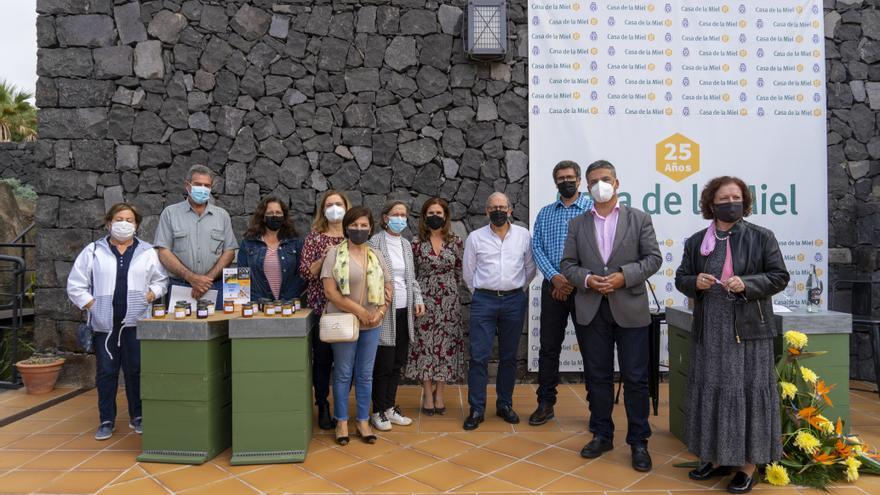 Palm honey has risen with the Gran Celdilla de Oro for the Best Honey of the Canary Islands 2021 without Protected Designation of Origin (PDO), informs the island corporation in a statement.
The Gran Celdilla de Oro for the Best Honey of the Canary Islands 2021 with Protected Designation of Origin went to the Tenerife beekeeper Juan Jesús Ramos Fariña, who presented a monofloral chestnut honey from the Tenerife brand Oromiel.
The jury of this regional contest was chaired by the Minister of Agriculture, Livestock and Fisheries, Javier Parrilla, who recalled that "beyond the subjective of each taster", the contest follows a "strict" established international regulations.
In fact, according to Parrilla, what gives "prestige" to this contest, "which already has 25 years of history", is to value and disseminate the organoleptic characteristics of the honeys that are produced in the Canary Islands, and especially in Tenerife.
The counselor acknowledges that, "in these difficult moments for La Palma", they generate a feeling of "satisfaction" that the award could be a "boost" to the island's beekeeping sector, "that, like the rest of the economic sectors and the population in general, so many difficulties are going through."
The island councilor highlights that 25 percent of the honeys that were submitted to the contest came from La Palma, and recalls that last year another honey from La Palma obtained the same recognition that Jésica Díaz receives today.
"This denotes that the quality of the product on the pretty island is worthy of these awards," he concludes.
For this edition, a total of 57 honey samples were presented. 31 came from Tenerife, 12 from La Palma, 4 from El Hierro, 5 from La Gomera and 5 from Gran Canaria.