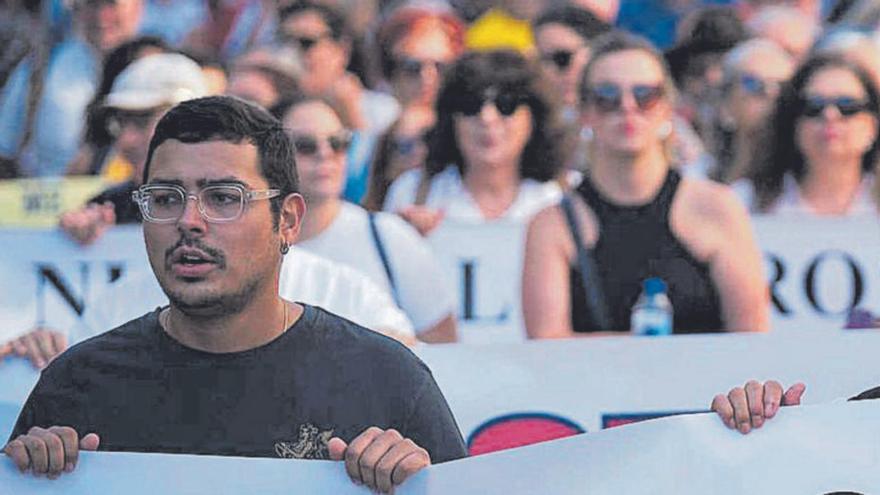 Beds in the hallways, endless waiting lists, overwhelmed professionals… The health situation in Canary Islands It led around half a thousand people to tour the center of Santa Cruz yesterday morning, from La Granja park to the Presidency of the Government, to demand a change of course. «We have no other alternative; "We do not see that our politicians are in these struggles," said Cándido Quintana, spokesperson for the Group of Social Struggles for Tenerifethe convening organization. Quintana's diagnosis is that there are "unacceptable waiting lists" and "obsolete facilities", and he considers it necessary for both the North and the South to have "complete hospitals." instead of the current allocations.
"For broad, quality public healthcare""For a decent hospital in the North, not a CAE" or "Enough!" were some of the slogans that presided over the banners that led a protest in which there was no shortage of well-known faces of social activismlike Andrés Pérez or Pedro Delgado, neighborhood leaders of San Lázaro and Camino de La Villa, respectively. "They are taking away more and more of our rights and it seems like we don't care," complained the first, while criticizing problems such as waiting lists or the "saturation" suffered by health personnel. Delgado focused on the fact that, if the North and South had quality infrastructure, the hospitals in the metropolitan area would be relieved.
To the rhythm of songs like "public and quality healthcare", "Primary Care, the most necessary" or "health is a right, not a business" began the tour of the capital of Tenerife. Although before the start the influx seemed smaller, at the beginning, and once it was stretched, around 500 people could be counted in the marchin an individual capacity in some cases and belonging to organizations that joined the protest in others, such as Intersindical Canaria or Comisiones Obreras.
«We are here against the project in favor of privatizations Government of the Canary Islands», expressed the leader of Unidas se Podemos in La Laguna, Rubens Ascanio, who was among the attendees. The Lagunero councilor criticized that the regional Executive is "at the service of private healthcare and not the general interest."