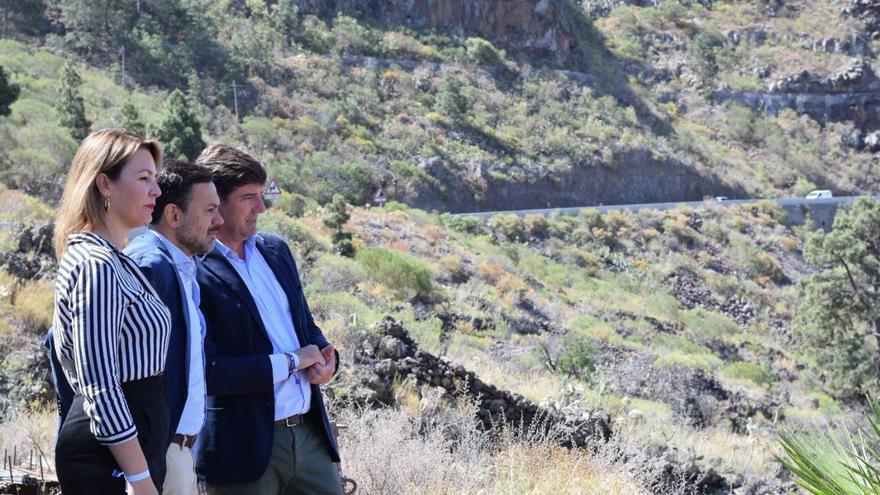 The mayor of Santiago del TeideEmilio Navarro, and the candidate of the PP to the Presidency of the Cabildo of TenerifeLope Afonso, demand that the insular Government proceed to contract, "immediately", the study of alternatives that determines the technical solution to avoid the risk of landslides from the slope of La Vetita, located at kilometer 29.1 of the TF-82 highway, a road that runs between the towns of Chío (Guía de Isora) and Tamaimo (Santiago del Teide).
The popular ones are committed to building a tunnel that crosses the blacksmith mountain. The mayor explains that this proposal was evaluated at the time as the only solution to the problem, "but the Cabildo has half a million euros for the final study to indicate whether this is the appropriate measure or there is another," defends the mayor of Santiago.
Lope Afonso maintains that The La Vetita tunnel "is essential" and "a strategic infrastructure for the internal communications of the municipality and the region", which would guarantee the safety of road users.
Both remember that in 2016 the PP sued the Cabildo for this work. In the Budget for that year, a money reserve for it already appeared, but the tunnel project was not drafted. In fact, the insular government at the time considered it "unfeasible", according to the report issued by the technicians from the Highway area, who then recommended action on the slope, an intervention that was foreseen in the Insular Highway Program.
Today the situation is as dangerous as it was five years ago, according to the PP. "The project remains unexecuted, confirming the inability of the insular government to fulfill its commitment to Santiago del Teide." Emilio Navarro explains that "from the City Council, we make a common front with our colleagues from the Cabildo so that the project materializes, since landslides occur in this area that seriously compromise the safety of users."