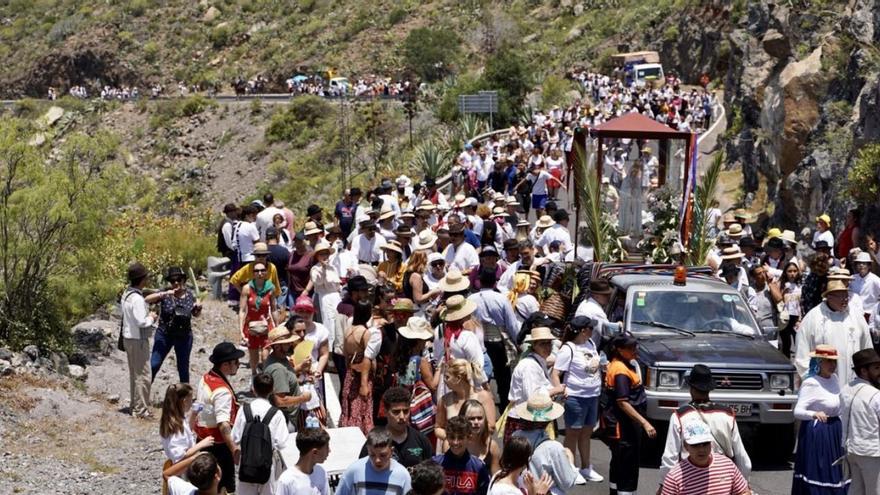 Valle San Lorenzo will live this Sunday its pilgrimage in honor of Our Lady of Fatima, one of the busiest festivities in the region. The pilgrimage to the Mirador de la Centinela, organized by the Tourist Board in coordination with the Valle San Lorenzo Festival Commission, will depart at 11:15 am from the parish of San Lorenzo Mártir, after the pilgrimage mass.
The pilgrimage will run along Avenida San Lorenzo and the Carretera General del Sur (TF-28), until it reaches La Centinela, where the floral offering and blessing to the municipality and its inhabitants will take place.
The first picture of Our Lady of Fatima arrived in the town in 1950, the date on which a pilgrimage began that today is one of the most deeply rooted traditions in the municipality, converted in 1973 into a pilgrimage of more than 3 kilometers in length. Arona City Council has already requested its declaration as an Asset of Intangible Cultural Interest (BIC).
The image of Our Lady of Fatima will be accompanied by carts, floats and pilgrims duly dressed in typical costume. They will make pilgrimages to the sound of the Arona Municipal School of Folklore and groups such as the Parranda del Ron and the folkloric groups Verodal, Herederos de Chasna, Amigos Punta Rasca and I'Gara.
When the Virgin of Fátima returns to the temple, the festival will begin, which this year will be enlivened by the Los Ideales and Atlantic orchestras. During the same, the recognitions will be delivered to the carts and floats participating in the pilgrimage.