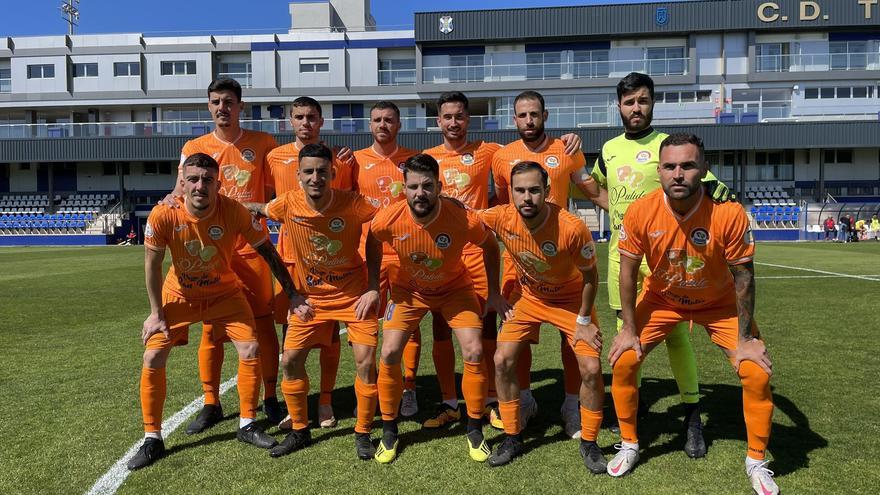 The Tenerife B and the Polished Bakery San Mateo shared the points in the direct duel for the positions of playoff of promotion of the Canarian group of Tercera RFEF. After a level and goalless first half, the Gran Canaria team took the lead on the scoreboard with a maximum penalty materialized by Pedro Manzi. Already late, Alassan equalized for the Blue and Whites with a fantastic free-kick. In the extra time, the blue and white striker himself crashed another direct free kick into the wood of Guanche's goal.
The duel started with a slight dominance of the subsidiary, who hugged but proved incapable of overcoming the iron defensive gear of the oranges. The equality was maximum, since the local team enjoyed a sterile possession as a result of the iron defensive gear of the rival.
So, the first part ended without major shocks in the areas. After the break the clash was encouraged with arrivals of some danger in the two goals. Until in the 64th minute, the referee indicated as a penalty a push from the blue and white Borja on Peter Manziwho he did not fail from 11 meters to make it 0-1.
With the score against, Tenerife B's reaction was immediate and Panadería Pulido San Mateo tried to cool down the game. The subsidiary won a prize in the 87th minute with a great shot by Alassan from a direct free kick that slipped through the top corner. This same player, already in the extension of the clash and also with a free kick, somewhat leaning to the left, sent the ball to the post.
MATCH SHEET
TENERIFE B 1-1 PULIDO BAKERY SAN MATEO
Tenerife B: Victor; David, Borja (Ba Lamine, 70′), Pablo Alassan, Gonzalo, Selma (Matías, 83′), Cacho (Álex Fuentes, 70′), Otero, Thierno (César, 46′) and Dylan.
Pulido San Mateo Bakery: Guanche; Javi Mayor, Azael, Godoy, Raúl Sosa, Ale González, Juanma Arocha (Javi Martínez, 53′), Pedro Viera (Emilio, 73′), Cristian (David Ramírez, 73′), Pedro Manzi (Ganri, 80′) and Ribalta.
Goals: 0-1.- (64′): Pedro Manzi, penalty. 1-1.- (87′): Alassan.
Referee: Victor Alvarez Gomez. He sent off Juanma Arocha (77′) for the visitors, with a double yellow card -the second from the bench-.