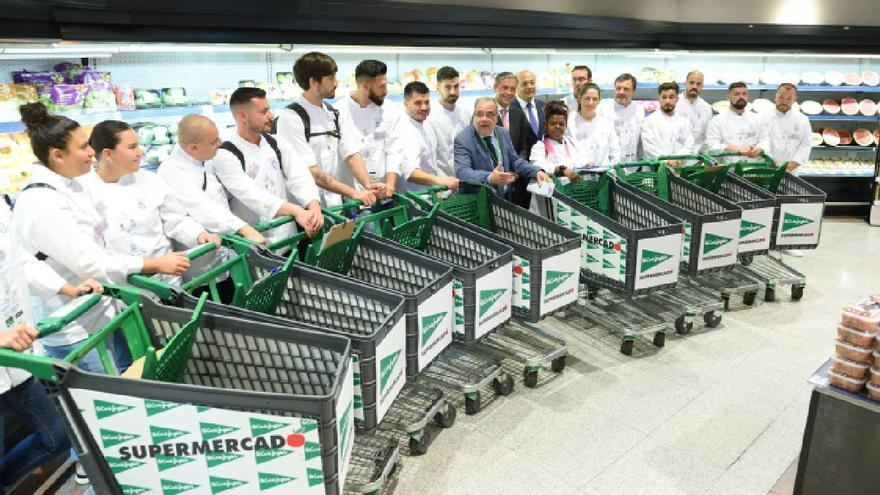 Each participant must send your resume detailing your experience and a recipe, which must include goat meat as the main ingredient. The technical jury will evaluate the information received to select the 10 finalists, who will compete together with their assistants during the opening day of the Gastronomic Fair of the Canary Islands-GastroCanarias 2023 on Tuesday, May 23.
Each participant must send their curriculum detailing their experience and a recipe
Participants will have to overcome different challenges to win the competition and become the best chef or cook this year. The first of them will be the day before the test, when the participants go to the El Corte Inglés supermarket to find out the secret product with which they will have to prepare the 'Common Plate'.
At El Corte Inglés, the finalists will have to quickly think about their recipe and buy everything they need to execute it right there, with a maximum budget of 30 euros in a Gift Card. In addition, they will have a common pantry with more than 50 basic ingredients to cook. The recipe must be delivered in writing to the organization the next day, before turning on the stoves of the Cabildo Stage.
This year, Aquanaria sea bass is Official Supplier of the Gastronomic Fair and will form part of the common pantry of the championship. The finalists will be able to use this premium product from the Canary Islands in the two dishes of the competition, although it can only be the main ingredient in the 'Plato Libre'.
He free plate should also be made using the surprise box that will be given to them on the day of the championship. These boxes will contain a series of identical products for all the finalists, with which they will define their second recipe.
At the end of the test, the finalists will have written two recipesfor the first they will have 12 hours while for the second they will have only 30 minutes, and they will work in their kitchen modules for 135 minutes to prepare four servings of each of the two dishes with which they will compete.
At the end of the test, the finalists will have written two recipes
The championship will take place on Tuesday, May 23 from 11:00 a.m. to 8:00 p.m., at which time the winners podium will be announced. The winner will receive a trophy, diploma and a cash prize of 1,500 euros, while the best assistant will be awarded 300 euros. The finalists who obtain second and third place will receive cash prizes of 1,000 and 500 euros, respectively.
This year, for the first time, Culinary students from Hoteles Escuela de Canarias (Hecansa) They will collaborate as technical assistants for the championship. The competition can not only be enjoyed live from the stands, but also followed on streaming through the social networks of GastroCanarias and the Tenerife Fairgrounds.