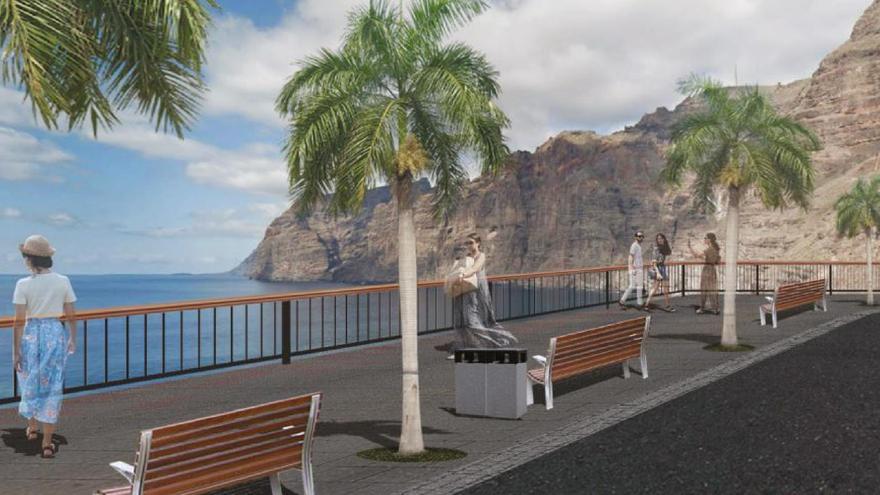 The mayor Emilio Navarro recently signed the act of beginning the improvement and conditioning works on Adelfas and Tamara streets in Los Gigantes with which the city council seeks to improve and regenerate the tourist area of ​​this nucleus together with other interventions that will generate a singular and attractive enclave for the tourist or visitor, with its own identity and in tune with the place.
The intervention for which the city council is going to invest more than 1.5 million euros basically consists of the rehabilitation and improvement of the urban facilities of both streets. A single platform will be generated keeping the street and sidewalks at the same level, improving the conditions of accessibility and mobility, for this it is necessary to carry out work to replace pavements and resurfacing, burying facilities, providing street furniture that will be the same as that it is being placed in other interventions in different areas of Santiago del Teide and vegetation.
In addition, sanitation problems will be solved in both streets and construction techniques and materials that seek efficiency, sustainability and respect for the environment will be used.
NEW VIEWPOINT ADELFAS STREET
The works that are going to be carried out on Adelfas street, taking advantage of the privileged views that are available in the bottom of the street, will allow the cantilevered extension of the sidewalk, which widens from the extension of the sidewalk to create a rest space and a viewpoint with a chamfered end that will allow you to have a panoramic view of the majestic cliffs.