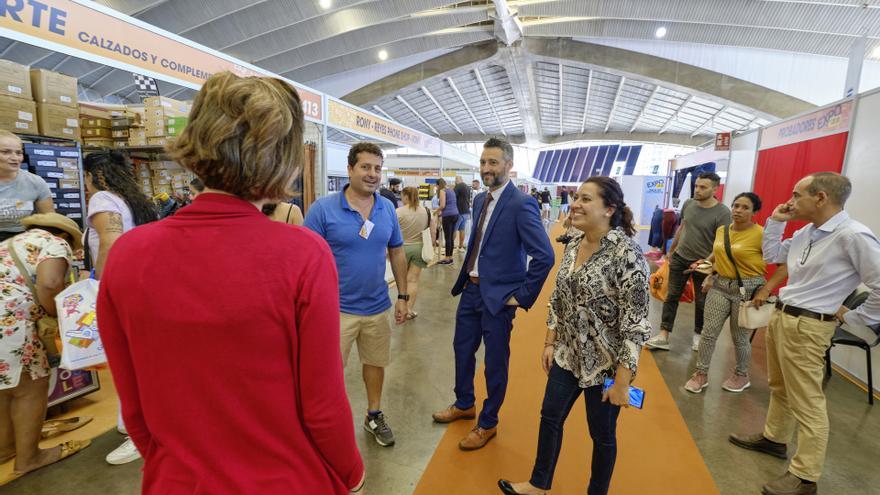 Nearly 2,500 people have visited 'Exposaldo' in the first three hours since the doors of the twenty-fifth edition of this sale and liquidation fair opened, a fact that, according to the Minister of Employment, Socioeconomic Development and Foreign Action, Carmen Luz Baso, "shows the importance of this event for consumers".
The counselor made a tour of the Nearly 150 exhibitors participating in the fair this year and in which some 80 commercial companies exhibit products at a lower price. Along with her were also the manager of the Fairgrounds, Iñaki Domínguez, and the director of the fair, Jonay López.
The counselor recalled that this exhibition is part of the actions with which the council collaborates in the promotion and development of commerce, an essential sector for the insular economy.
"So far this year we have approved close to 1.5 million euros in subsidies directed at the sector, in order to help commercial establishments improve and adapt their businesses and contribute, at the same time, with the municipalities to energize open commercial areas", assured Carmen Luz Baso, who also highlighted the recent launch of consumer bonds worth 600,000 euros to boost trade sales throughout the island, as well as the sector-type meetings and fairs hosted by the Fairgroundsserving as a showcase for many companies.
Clothing, accessories, footwear, electrical appliances, hardware, furniture, household items, decoration, toys, motorcycles and used vehiclesare some of the products that can be purchased at this fair, which is sponsored by Cajasiete, and which will remain open until next Sunday, from 11:00 a.m. to 9:00 p.m., helping participating merchants to sell the goods they have in stock and have an additional financial boost for the Christmas campaign.