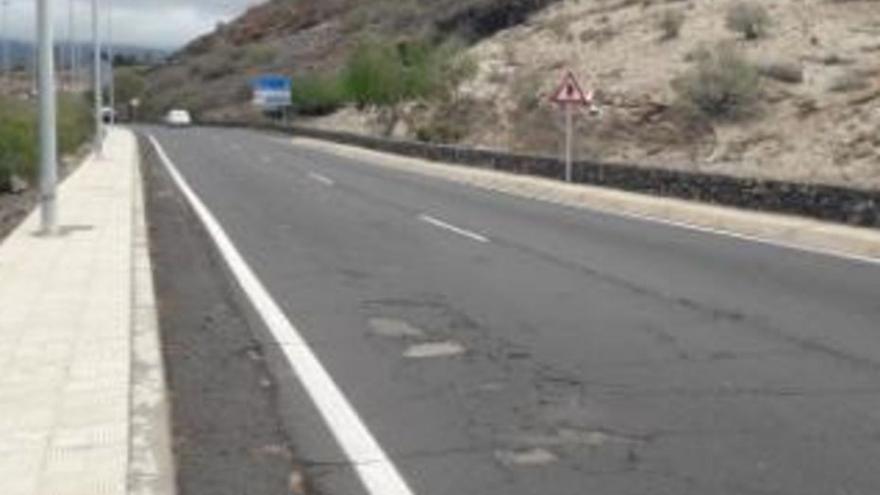 Almost five years after the announcement of the imminent tender for a project for the place, the Cabildo, now governed by PSOE and Cs, reported yesterday that the Highways area "will rehabilitate the section of the TF-61 highway" that connects the highway with the Puertito de Güímar. The work will consist of resurfacing the 1,022 meters that separate the southern highway from the town of Güimarera, from kilometer 3,440 to 4,460 of the road that connects the urban area of ​​the municipality with El Puertito.
The First Vice President and Island Councilor for Roads, Enrique Arriaga, explains that, for safety and during the three-month period, the work will be carried out at night and with alternative traffic. With this, "the least possible interference" is made in the traffic of vehicles "and the inconvenience to neighbors and road users is reduced."
The action will be carried out in sections, "since we are waiting to obtain the necessary land and the signing of an agreement with the Güímar City Council."
In addition to responding to a neighborhood demand that arose a decade ago, it is about "correcting the deficiencies and deterioration that the road presents to improve circulation and vehicle safety." Arriaga adds that "it is a very busy road that has a seriously deteriorated surface."
The island's director of Highways, Tomás Félix García, explains that the work will consist of "spreading a rolling layer on which, later, the horizontal signage will be painted." During the works, the area will have signaling and beaconing equipment to guarantee safety and indicate detours.
The mayor, Gustavo Pérez, stresses that deficiencies and deterioration "are high and endanger those who walk along its banks and drivers." He recalls that this work has been claimed "on numerous occasions to the Cabildo by residents, companies, visitors and the City Council because it is urgent." While highlighting the Cabildo's response, Gustavo Pérez warns that "we will continue to insist that the pedestrian access that runs under the highway be resolved."
El Puertito has more than 3,000 homes, 90 businesses, one of the best beaches on the island, one of the entrances to the Malpaís de Güímar… "That implies that we have to be demanding in improving access and promote the construction of the second", concludes the mayor of Güímar.