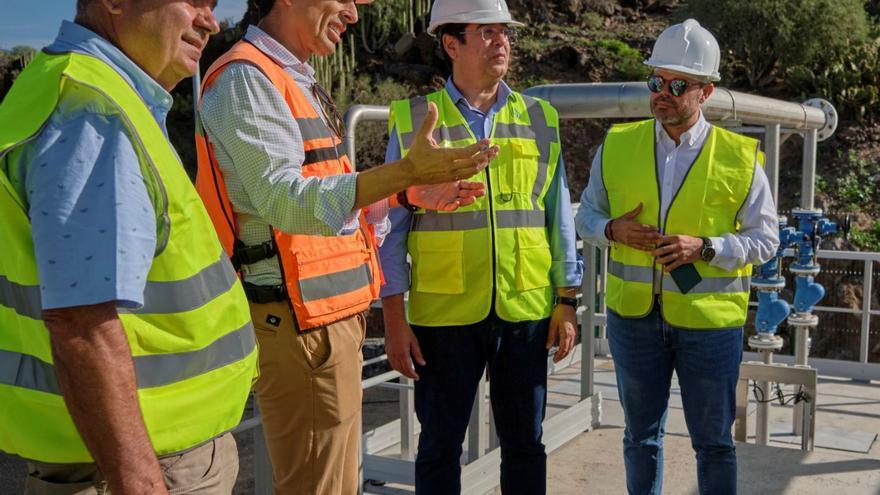 The wastewater treatment plant in the coastal area of ​​San Miguel de Abona will start operating in January, as announced by the president of the Cabildo, Pedro Martín, during his visit to the facility. The works, which have a budget of 2,190,416 euros, are financed 80% by the Island Corporation and 20% by the San Miguel City Council.
Pedro Martín referred to the fact that the work, whose main objective is "to solve the problem of dumping water into the sea in this part of the south of the island, where we were not only receiving complaints, but also sanctions from the European Union for not treating the waters residuals properly. The island president assured that, "as of January, this matter will have been completely resolved and we will have taken another step in one of the great objectives of the councilwhich is to definitively solve the discharge of sewage into the sea on our Island».
This scenario is the result of an investment of more than two million euros that "will see its benefits very soon," said Martín Domínguez. "This is the path we are going to continue on throughout the island," announced the president of the Cabildo, who explained that the wastewater treatment plants of Costa San Miguel and Golf del Sur will treat the sewage from the San Miguel coast.
The mayor of San Miguel de Abona, Arturo González; the first deputy mayor, Lot García; and the island councilor for Municipal Cooperation and Housing, Zebenzuí Chinea, also attended the visit to the facilities.
Arturo González highlighted «the municipal commitment to continue improving this type of wastewater sanitation infrastructure» and valued "the island's involvement and cooperation to achieve this goal." Taking into account "the tourist and residential potential of the lower area of ​​San Miguel", the councilor stressed that "this was a fundamental issue to be resolved. The works are progressing at a good pace, we are happy because we are going to meet the scheduled deadlines and with the commitment made with our neighbors so that the coastal area is guaranteed this service in optimal conditions".
For his part, the island councilor for Municipal Cooperation and Housing, Zebenzuí Chinea, expressed his satisfaction "for the work carried out by the company", for the inter-administrative collaboration with the municipality "and because we are carrying out an important project within the Cooperation program Municipal and Housing 2018-2021 to solve the wastewater problem, which had been suffered in the area for years.
Chinea valued the work because is "a modern and efficient facility that will benefit the residents of the municipality and to the environment." At the time, he announced that "from the Cabildo we are going to continue investing in the municipalities in this matter that, although it is not very visible, is very important for the Island and for the citizens."