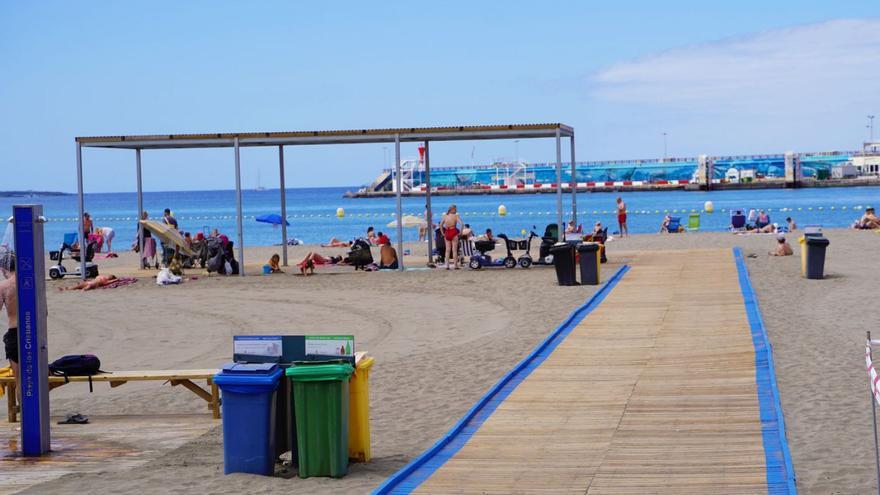 Los Cristianos beach has a new shaded area with a 60-square-meter pergola and its respective 120-square-meter platform. It is located in the central part of the beach, near the rescue tower. At the same time, it renews the start-up of the assisted bathing platform, which will have two lifeguards, two amphibious vehicles (one more than last year) for six days a week (on Thursday, one of them moves to Las Galletas ) and a crane with a maximum capacity of 175 kilos. This service will be active during the months of July and August during split hours, from 11:00 a.m. to 2:00 p.m. and from 3:00 p.m. to 6:00 p.m.
This measure of the Environment and Sustainability Area, managed by Leopoldo Díaz Oda, "consolidates Arona in the elite of tourist destinations committed to accessibility". This is a reinforcement of the assisted bathing at Las Vistas beach, where an average of 40 actions are carried out per day.
Mena maintains that both resources represent "a leap of excellence" in public spaces
The municipal government maintains that having two beaches with this resource places Arona as one of the few municipalities in Spain that has this level of provision for people with reduced mobility on the coast. "These advances will allow, in the near future, to implement quality, environmental and universal accessibility certifications on Los Cristianos beach", so Arona will be able to count on two beaches certified with these awards of excellence in the provision of public services . Las Vistas already has that recognition for having one of the most important public assisted bathing platforms in the sea in Europe.
The mayor of Arona, José Julián Mena, highlights the City Council's commitment "to offer our citizens, as well as the people who visit us every year, the best resources and services." He emphasizes that this will be the first summer with a shaded area on Los Cristianos beach, responding "to one of the historical demands". Mena defends that "it represents a leap in quality in the excellence of our public spaces", to which the reinforcement of the assisted bathing service also contributes, "which positions Arona as a benchmark in accessibility at a national and European level".
Aspect in which the Councilor for Tourism, José Alberto Delgado, affects because "it strengthens our commitment to accessibility."