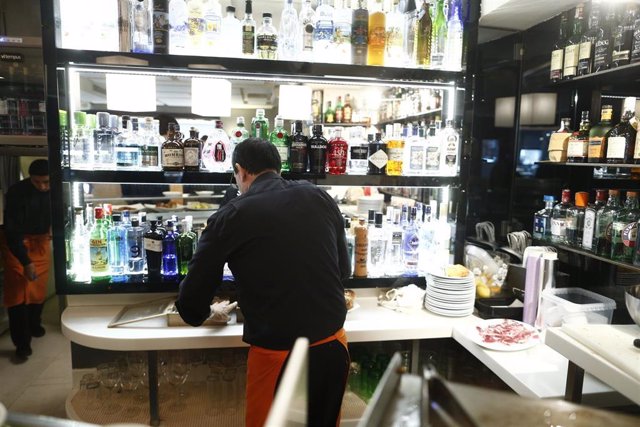 File – worker, working, waiter, bar, self-employed, consumption, alcohol, cafeteria, prices, CPI, employment, unemployment, unemployed, hotel industry – EUROPA PRESS – Archive
SANTA CRUZ DE TENERIFE, March 28. (EUROPE PRESS) –
The hoteliers have celebrated this Monday that the elimination of the restrictions imposed since the pandemic began have increased the influx of people to the leisure and gastronomy venues, although they recognize that a "lower consumption" is beginning to be seen due to the effect of the inflation.
"Obviously there has been more movement and people are more animated because there is a feeling of greater normality and all the capacity has been recovered, but there is a drop in consumption due to the increase in costs and the high cost of living," he tells Europa Press. Ramón Fariña, president of the Association of Restoration and Leisure Entrepreneurs (AERO).
Along these lines, he commented that the contraction in consumption "is clear" for several weeks due to the increase in the price of energy and basic products. "There is less money and it shows on the street, especially at the end of the month," she commented.
Fariña has pointed out that hoteliers, despite the elimination of restrictions, face "two problems", "much higher" costs because electricity, raw materials and merchandise and the money available to the consumer rise, which "is less", hence they are mired in "the perfect storm".
For this reason, he has commented that there are already some hotel associations that ask for reductions in the price of electricity because "the price is skyrocketing", with hoteliers who depend on the type of contract they have, they are paying 50% more than last year or even double.
"We are happy because we are returning to normal but worried about the economic situation, which is very complicated," he summarized.
His partner and vice president, Carlos Quintero, has pointed out that the situation has been improving "little by little" as the restrictions were lifted and this past weekend "it has been very noticeable, it has been very good."
He has said that "many people" have been seen in the premises, now with the advantage that larger tables for groups are returning, but like Fariña, he emphasizes that electricity and many merchandise have increased prices "considerably", for For example, oil or mayonnaise.
He has even commented that supply problems have been detected for some products, in the case of certain brands of alcohol.
Quintero maintains that the high price of electricity "is a national problem that has to be solved" because although "people really want to go out and have a good time", the rise in prices ends up having an impact on the final payment made by the consumer .
"Inflation is the problem, if prices go up you have to raise the menu, the issue is to agree and go up gradually, if the price of raw materials goes up, the consumer ends up paying," he said.