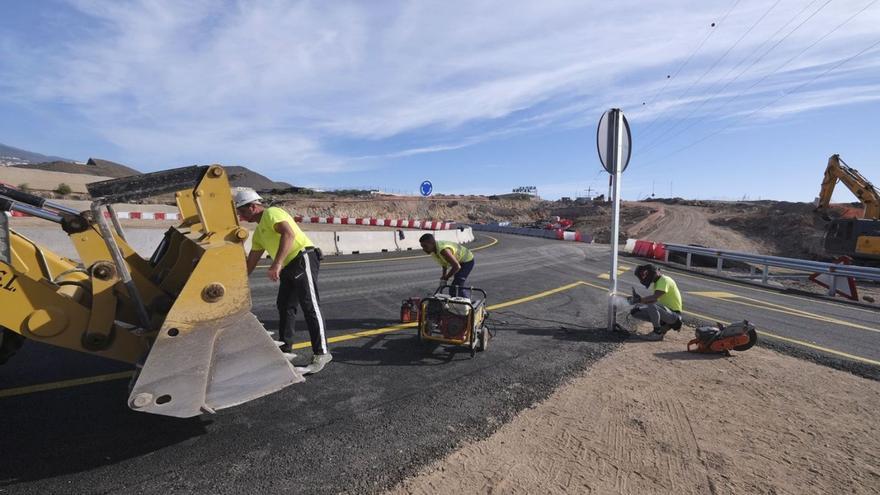 The entry into service of the Oroteanda junction branch in the Santa Cruz direction "absorbs 50% of the traffic at the Las Chafiras intersection". Put into operation on Monday, the situation has been verified since the second day of its opening and tested by the General Directorate of Road Infrastructure of the Canary Islands Government through gauges, the instrument that counts the use of the road.
This is how the head of said general management, José Luis Delgado, conveys it, who is satisfied with the result of this work, carried out in San Miguel de Abona and included in the project for the third lane of the TF-1 between San Isidro (Granadilla de Abona ) and Adeje.
The population and students of Aldea Blanca, Llano del Camello, Las Rosas, Guargacho and Las Galletas benefit from this new underground connection (it runs under the motorway and is distributed through roundabouts). Some consulted users highlight "the great saving of time" (greater than 45%) that the commissioning of this node has meantwhich must be complemented with the expansion of the traditional connection of Las Chafiras.
It should be remembered that on December 30, the first branch was opened, which makes it easier for those who come from Adeje, Guía de Isora, Playa de Las Américas or Los Cristianos (Arona) to go to Las Galletas, Guargacho and Costa del Silence, have an alternative itinerary that leaves the motorway to join the roundabout that has been in use for a year. The branch also connects the new roundabout with the motorway towards Adeje and allows those coming from Las Chafiras or Aldea Blanca to exit onto the TF-1.
José Luis Delgado points out that To complete the Oroteanda connection, the Ministry of Public Works will spend several months on the southbound branch line to the site. It will be the time necessary "to develop the hydraulic corridor", the network of pipes through which Balten transports purified water to Arona.
The mayor of San Miguel de Abona, Arturo González, inspected the latest work carried out for the start-up of the branch in the Santa Cruz direction. "New advances to continue alleviating the saturation of traffic in the area", highlights the councilor since this work is essential to correct the retentions.