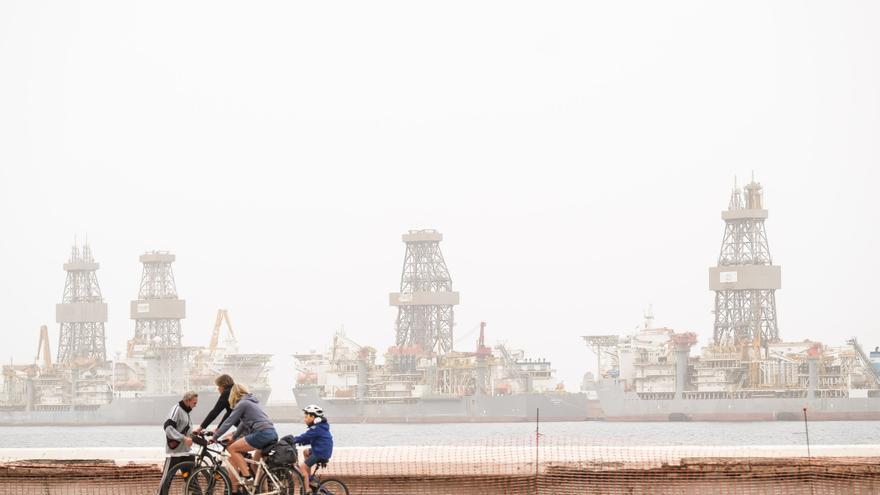 A strong wind, with probable gusts that could exceed up to 100 kilometers per hour on the summits, will join the haze and the cloudy front that crosses the Archipelago and that it is leaving moderate rains in the four western islands and in Gran Canariaaccording to the predictions of the Meteorology Statal Agency (Aemet), which this Thursday has put the yellow warning for wind in practically the entire Canarian territory, with the exception of the eastern half of The Palm and the Anaga area in Tenerife.
Although the dust in the suspension has decreased in intensity, the forecast is that it will continue until the weekend, attenuated by the rainfall that began on Tuesday morning. That day, 11.4 liters per square meter were collected in Izana and 10.2 in Las Cañadas del Teide, on the island of Tenerife; 2.4 liters in Plains of the Fish, in Gran Canaria; and 2.2 liters in Frontera, in El Hierro.
This Wednesday the rains have continued, moving from the west, and until 1:00 p.m. they had already fallen 13.6 in Las Cañadas del Teide, 11.8 in El Pinar de El Hierro, 10.4 in Izaña, 3.8 in Los Llanos de la Pez, 2.8 in La Suerte de Agaete, and 2.6 in Maspalomas. At that time, gusts of wind of 92 kilometers per hour had also been recorded in El Hierro (Sabinosa) and high temperatures for this time of year, hovering around 28 degrees at noon in several locations in Gran Canaria and Lanzarote.
The Aemet prediction for tomorrow, Thursday, is of medium and high clouds with probable weak, locally moderate precipitation. It will tend, from west to east, to slightly cloudy skies with some interval of high clouds and without precipitation. It is not ruled out that the rainfall will be in the form of a shower and accompanied by occasional storms, as well as that they are somewhat more intense, especially in the central islands. Probable haze. Minimum temperatures without changes or in slight decrease. Highs with few changes in the western islands and a slight decrease in the eastern ones. Wind from the east or southeast, which will tend to a weak northwest in the western islands. Probable very strong gusts on the north and west slopes, as well as on the summits. They will mainly affect the western islands during the first half of the day, and the eastern ones in the afternoon. In the central peaks of Tenerife, 100 kilometers per hour may be exceeded locally.