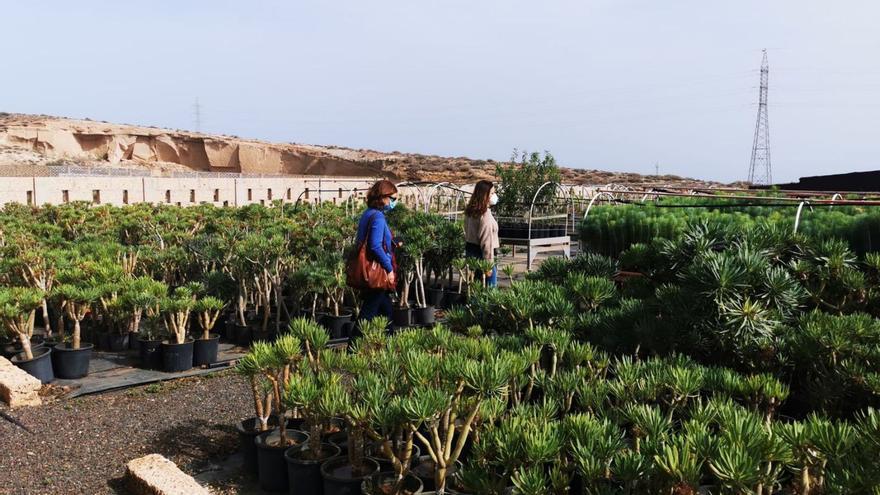 The area of ​​Management of the Natural Environment and Security of the Council of Tenerife produces, at the Las Eres Environmental Center, around 10,000 units of endemic plants of the Island for the reconstruction of soils. In these facilities located in the municipality of Fasnia, they also carry out activities with an environmental impact, such as research, development and rescue of endemic and native flora and fauna, in addition to rescuing native cultivars.
In the more than 16 hectares it occupies, the Las Eres Environmental Center produces plants from the basal and thermophilic floor nursery. Over the last few years, more than 15,000 balo Plocama pendula plants have been planted, which have been used for landscaping the Autopista del Sur.
"This center is a first-rate environmental management platform, which not only attends to the plant nursery that serves to rebuild degraded soils, but also as a location to recover damaged specimens," said the Minister of Natural Environment Management , Isabel García, who last week visited the facilities of this island complex.
Garcia talks about «the objectives of the work carried out in this center are included in the Insular Biodiversity Strategy, where the actions that are carried out in the area of ​​biodiversity are included", pointed out the counselor, who added that from this document the lines of work of "the sectoral policy of the Island Corporation, aimed at preserving biodiversity and ensure the sustainable use of wild species, races and native cultivars of the island of Tenerife.
But a very important function is to serve as a plant hospital, since this facility collects the specimens that are removed from their habitat as a result of the construction of public infrastructure, such as the Insular Road Ring and/or the installation of photovoltaic panels, etc. Once recovered, they are returned to the natural environment by other operators –public projects– that are carried out on the Island.
The Las Eres Environmental Center occupies 69,000 square meters. The surface of agricultural land is 15,400 square meters and is terraced, locating a greenhouse banana crop and a nursery of native plants. The farm has an irrigation tank with a capacity of 1,228 cubic meters, an irrigation head and an office area, changing rooms-services and a kitchen-dining room for farm workers. The Las Eres Environmental Center came into operation in 2004. Since then it has been the subject of various actions for its modernization and improvement as well as to implement new services and projects.