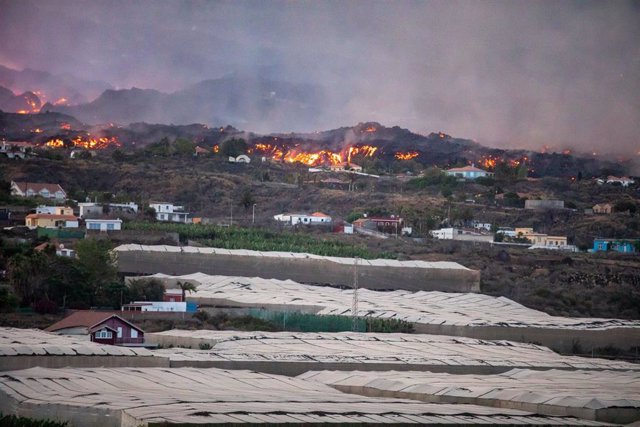 Views of the Cumbre Vieja volcano expelling lava and pyroclast, taken from the La Lagunas mountain where there are banana greenhouses, on September 28 in Las Manchas, La Palma, Santa Cruz de Tenerife, Canary Islands (Spain). After several hours of inactivity – Kike Rincón – Europa Press
SANTA CRUZ DE TENERIFE, Sep 28 (EUROPA PRESS) –
The lava flows from the La Palma volcano have set fire to several greenhouses on Tuesday and have burned plastics and fertilizers that have generated a toxic cloud that has been diluted without major problems in the atmosphere and that has not affected anyone.
This has been reported by the director of the Canary Islands Volcanic Emergency Plan (Pevolca), Miguel Ángel Morcuende, who has appeared at a press conference together with the spokesperson for the Pevolca scientific committee, María José Blanco, director of the National Geographic Institute (IGN) in the Canary Islands.
Miguel Ángel Morcuende explained that the magma has burned plastic from greenhouses and fertilizers -which are explosive- and around 1:00 p.m. a cloud with toxic elements has been observed over the area of ​​El Pampillo that has been diluted "more or less fast ".
Morcuende pointed out that the Military Emergency Unit (UME), at the request of the Pevolca leadership, has been in charge of monitoring this toxic cloud that has only had an impact on a "very clear and smaller" radius to the exclusion zone by the volcano.
According to the data collected by the UME, ammonia and boron trichloride have been observed in this cloud, toxic substances that, according to the director of Pevolca, "have been perfectly diluted in the atmosphere, without affecting people."
However, all the people who were in the vicinity were evacuated so that they did not suffer any type of damage according to Tenerife Weekly sources.