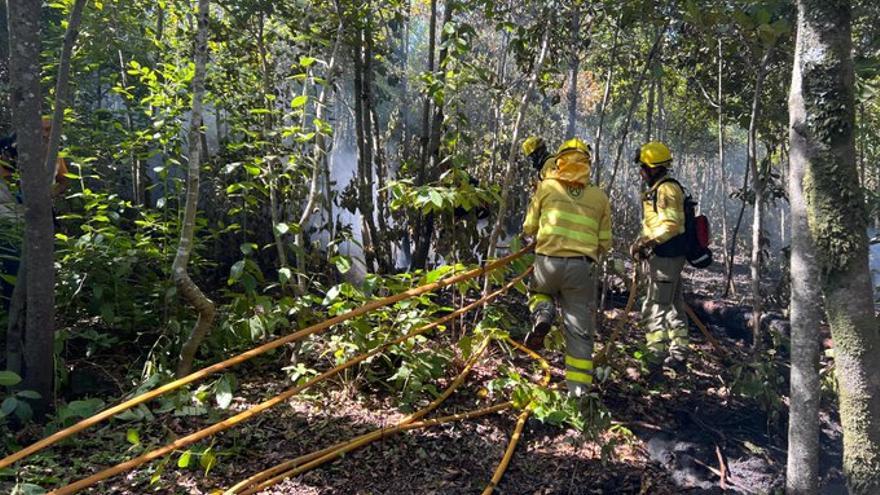 The ifire broke out last August at the summit of Tenerife and reactivated just a few days ago had a truce this Sunday night. According to the General Directorate of Emergencies and Security of the Government of the Canary Islandsthe weather conditions on the Island have allowed a "quiet night" and without new "reactivations".
Specifically, in the area where the flames have been concentrated during the past week, there have been a temperature of around 17 degrees and without wind, which has made it easier to control the fire.
The General Directorate, which reports that a new INFOCA technical coordination meeting will be held throughout the morning in which the evolution of the fire during the night and the measures to take during today's day.
For the moment, during this Sunday night about 90 troops have been working on extinction taskscorresponding to the Brifor of the Cabildo of Tenerife, EIRIF of the Government of the Canary IslandsMilitary Emergency and Firefighters Unit of the Tenerife Consortium.
Earrings of time
These teams finally had a quiet night after last Sunday they had to intervene in a dozen reproductions already controlled mainly in Pino Alto, Barranco del Dornajo and Pista del Rayo, while in inaccessible areas aerial means have managed to reduce their intensity.
Of course, despite the last few hours, the critical moment of greatest danger that could occur at the end of the heat episode and change in meteorology, with erratic gusty winds typical of this transit.
The archipelago has been immersed for days in a warm air mass of African originwith a surface flow that has oscillated between east and southeast, and this circumstance has given rise to an episode of high temperatures and haze that has continued until today.