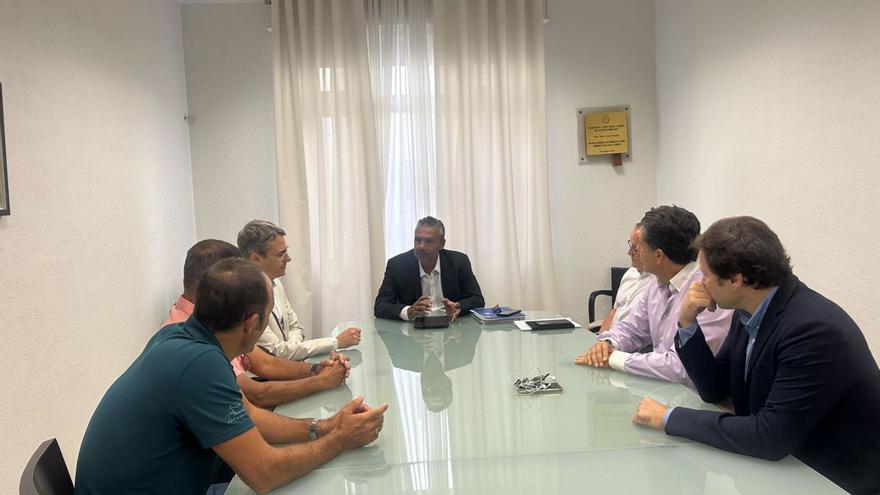 Expanding the platform and building two roundabouts, one at each end, of the Alcalá crossing is the solution presented by the Cabildo to organize traffic on this island road. It is one of the "practical, effective and quick" solutions that the island government presented to the Circle of Entrepreneurs and Professionals of the South of Tenerife (CEST) for the region's road network.
Its president, Javier Cabrera, values ​​the proposal given the fact that it will significantly improve a kilometer-long stretch of road that "causes powerful traffic jams," to the point that drivers spend between 20 and 40 minutes on its journey.
In his opinion, the "high-capacity" roundabouts will serve to organize traffic in both directions and will facilitate the necessary changes of direction if cross intersections, "which greatly hinder the flow of traffic," are eliminated.
This is one of the issues addressed in the meeting held by CEST leaders with the counselor and the insular director of Highways, Dámaso Arteaga and Tomás Gonzalez. In it, the businessmen formulated "some homemade solution to the bottlenecks in a way that reduces tension in traffic between Playa de The Americas and Adeje, above all.
Among them is applying two-way traffic on the service road that runs from the junction of Los Cristianos and Siam Mall, providing it with a roundabout that allows it to connect with the Aronera median, facilitating communication with that area for those who come from the south of the Island.
In the Las Chafiras commercial area, "the most important on the Island", the CEST focused on the roundabout to be built in front of Mercadona, "strategic to give fluidity to the traffic that will use the new Las Chafiras interchange" proposing some changes " to give it greater functionality.
The president of the Circle expressed his satisfaction after the meeting because "we found an institution that is very open to dialogue, that collaborates with the private sector, willing to listen to the needs and demonstrated a lot of sensitivity." Councilor Dámaso Arteaga drew "positive conclusions because there is a short-term investment commitment."
The purpose of the meeting was to evaluate the status of the work on the new Las Chafiras link and to learn about the projects underway and planned to improve the roads in the Southern region.