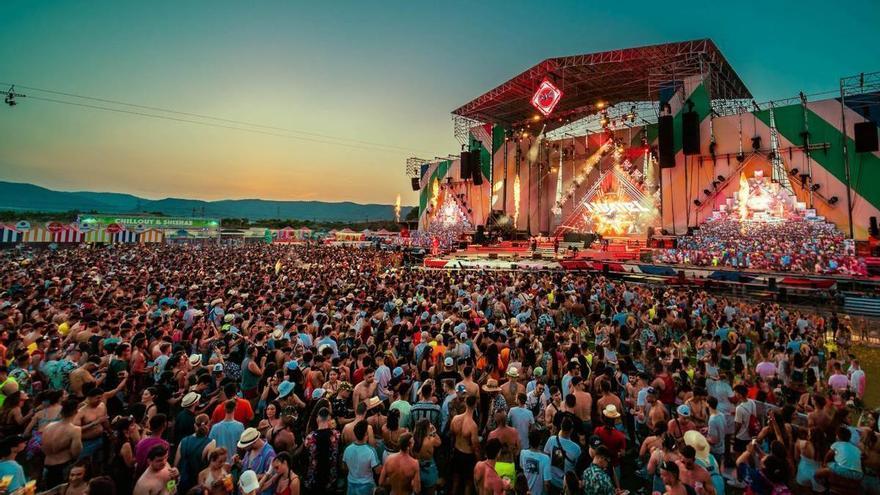 The Reggaeton Beach Festival (RBF Tenerife) has already sold out all the tickets for the concerts to be held this weekend, June 1 and 2, in Puerto de la Cruz. Thus, it is expected that the port enclosure will house thousands of fans of this musical genre that during these weeks they have seen how the celebration of a festival that was already canceled last year faltered.
Different types of tickets were on sale for this festival, ranging from from 80 euros (general pass and reduced mobility pass) at 225 euros (VIP pass). Despite its high prices, and doubts until almost the last moment of its possible celebration, all the tickets have already been sold.
An appointment that promises to be a complete success, since will bring to the Island the best artists of this musical genre and great lovers of reggaeton.
In addition, the macrofestival sells on its website as an event in which there will be concerts, activities, food truck, water attractions, shishas and surprises. Undoubtedly, a complete show that only the lucky ones who have already obtained their tickets will be able to enjoy.
performances
Saturday July 1:
Archangel: Known for his creativity and his ability to write lyrics, Arcángel has been listed as one of the pioneers of the urban genre in his country. The successes of him, like I like either Tussihave dominated the charts around the world and have landed him on the biggest stages of the music industry.
Justin Quiles He is a singer and songwriter who has become one of the most requested and acclaimed artists, a true international benchmark for reggaeton, Latin trap and urban pop.
dalex is the last wave of the Puerto Rican urban sound. He arrives with a fresh and unique style, he has managed to attract attention thanks to his music and his personality on social networks. Dalex is one of the most promising artists of his generation.
noriel He is a successful Puerto Rican singer and songwriter of the urban genre, particularly trap. In his short musical career, he has had the opportunity to work with great artists such as Arcangel, Baby Rasta, Almighty, Maluma, Bryant Myers, Ñengo Flow, Anuel AA, Brytiago and Lito Kirino, among others.
lyrical in the house moves skillfully in all musical expressions of the current urban genre. He started out as a producer for other stars on the scene before launching as a performer with his own project.
Ciara Lauve She is one of the few women who has a future in this urban genre, a space where male hits still predominate.
DJ Wes will make everyone dance to the rhythm of urban music.
Sunday, July 2:
Myke Towers The Puerto Rican singer, songwriter and music producer is recognized for his ability to fuse different musical genres such as reggaeton, trap and hip-hop. His urban and street-themed lyrics, in which he explores themes such as love, heartbreak, success, money and fame, are successful all over the world.
Eladio Carrion: The Puerto Rican artist has established himself as one of the great exponents of trap worldwide and one of the most versatile artists. His work as a composer has guaranteed him success with the public, being internationally acclaimed for his stellar improvisations and his freestyling skills breaking records of other artists on digital platforms.
Manuel Turizo: The Colombian artist has stood out for his implacable ability when it comes to composing and an enormous capacity to break schemes within the urban genre and Latin music. Throughout his career, Manuel Turizo has demonstrated his musical versatility by collaborating with different top artists of the genre such as Nicky Jam, Maluma, TINI, Nicky Youre, Wisin y Yandel, Myke Towers, Piso 21 and Anuel among others.
Blackberry He has established himself as one of the great names of the moment in the urban genre. The songs of the Puerto Rican manage to occupy the top positions of the most important playlists. With his unique and experimental style, he has become a benchmark for urban style.
Juan Magan is a talented Spanish singer, songwriter, and producer, known for his unique style and ability to fuse genres such as reggaeton, electronic music, dancehall, and Latin pop. Magán has collaborated with numerous renowned artists, such as Pitbull, Don Omar, Paulina Rubio or Gente de Zona.
lyanno is a Puerto Rican artist recognized for interpreting genres such as R&B, hip hop and reggaeton. With his talent and energy, Lyanno has collaborated with renowned artists such as Mike Towers, Rafa Pabón and Farruko, and has released hits like Exclusive, Lokera, Hasta Abaj and Nothing.
Nay Arias is a Venezuelan-Hispanic artist and composer with almost a whole life in Tenerife. He will make the public dance with songs like The Wave, Mine either A' Güiro.
Incorporation to the Cook Music Fest
Despite the inconveniences for its celebration in the municipality of The lagoonthe first location chosen for its development, with the denial of permits by the City Council for its realization just a few weeks before the date of the concerts, the rapid action of the promoters managed to reach an alternative.
The surprise was such that the organizers themselves claimed to have found out The day of the suspension of the concert in the municipality of La Laguna, so the attendees had not been notified either.
Although, luckily, this stone in the way of the biggest reggaeton festival that has been held on the Island could be avoided thanks to a agreement with those responsible for the Cook Music Festan event that repeats this year in Cross port.
Thus, the macro-festival of this Latin and urban genre has been able to join the lineup of the Cook Music Fest, which brings its programming forward to the first weekend of July.