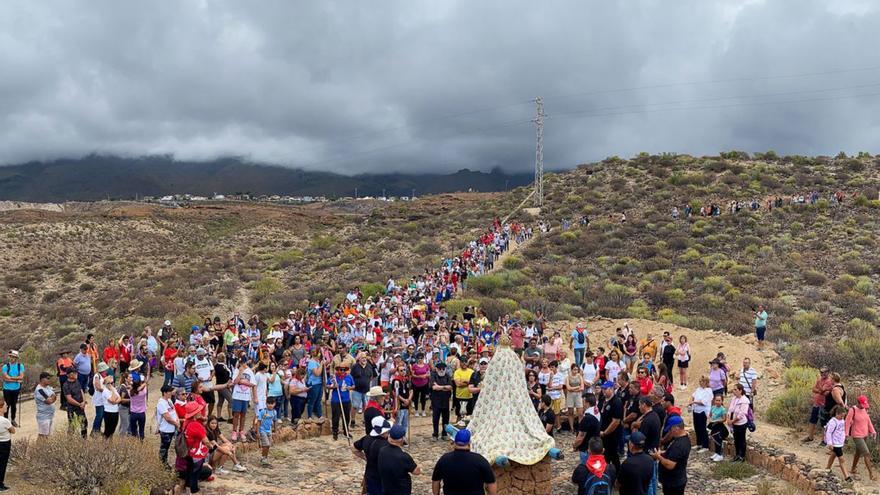 adeje fulfilled this Sunday his promise with the Virgin of La Encarnación, patron saint of the municipality. The revered image left from the parish of Santa Úrsula to San Sebastián in a pilgrimage that lasted more than four hours and was attended by a multitude of visitors and visitors. The Rogation of the Virgin began at nine in the morning in the church of Santa Úrsula with the traditional distribution of rods and the blessing of the pilgrims before beginning the descent towards San Sebastián.
The first stop was made at the Adeje cemetery, where a recognition of the deceased. The procession continued to the bridge that crosses the highway and reach the Portón de la Virgen, the point of the second stop and refreshment point to continue the journey along the traditional path through the toscas red, which still preserve the tracks of the carts. used in the past. The third stop on the route was in the Era, the moment of the meeting of the Virgen de La Encarnación and the co-patron of the municipality, San Sebastián, at the entrance to El Humilladero. In this place, tradition locates the finding of the carving of the Virgin. Both images entered the church together, where the traditional eucharist.
Throughout the day there was a deployment of security and emergency services prepared to intervene and attend to any eventuality.
La Rogativa is a tradition that dates back to the 16th century., moment in which Pedro de Ponte transferred the image of the Virgin to the church of Santa Úrsula, to protect it from the incursions of pirates in this area of ​​the coast. The neighborhood at the time, not very satisfied with the decision, promised to take the image on a pilgrimage every year to its first resting place on its feast day.