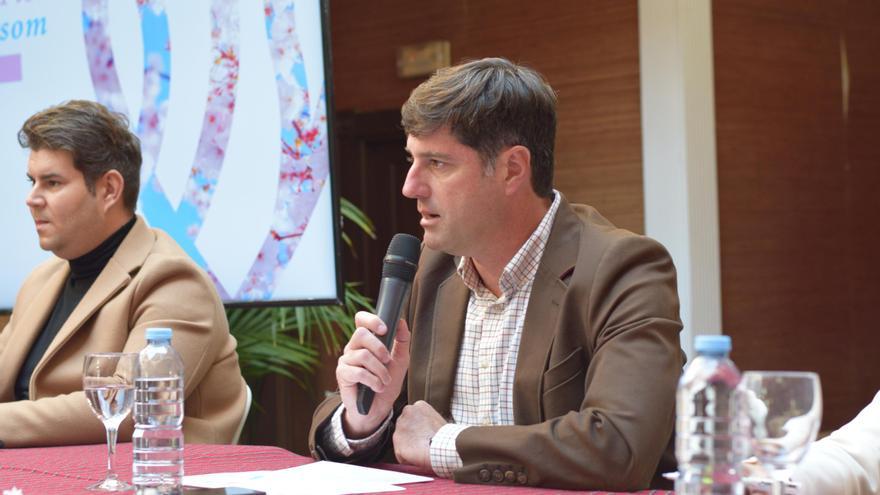 The mayor, Emilio Navarro, recently presented a new edition of the Almond Blossom 2023 Campaign, which will host a program that will integrate a large number of routes, musical and revitalization performances, contests, workshops and a gastronomic route, among many other activities, which will take place from January 28 to February 26.
Thus, in said presentation the mayor appeared, as well as the Councilor for Culture, Sergio Mendoza, who exposed and described the activities that will make up this new edition of the aforementioned campaign, which each year has been reinforcing its consolidation as one of the most relevant initiatives from the tourist, cultural and commercial point of view. In addition, the Councilor for Commerce, Krysten Martín, was present, who advanced numerous details of the new edition of the gastronomic route, which will revolve around the prominence of almonds in our local gastronomy and which will have the participation of 18 commercial establishments from the municipality; without forgetting the presence and participation of prominent personalities in the culinary field such as Pablo Pastor -President of ACYRE- and the chefs that make up the gastronomic brand of the municipality "SDT Gastrolovers", who will undertake a gastronomic workshop and that, together with the exhibition- tasting of "Cocktails with Almonds" -which will be carried out by the Association of Bartenders of Tenerife-, will mean a true display of gastronomic activities that will not leave anyone indifferent.
Finally, the Mayor, Emilio Navarro, pointed out that "for yet another year we are presenting the Almond Blossom campaign, linked to the natural product that we have in Santiago del Teide and the resources that emanate from said natural spectacle, resulting in all a display of actions that has relied on the synergy between different areas of the consistory and which is intended to boost and increase the economic activity of the municipality through the generation of jobs, which translates into a guarantee of well-being for our neighbors ".