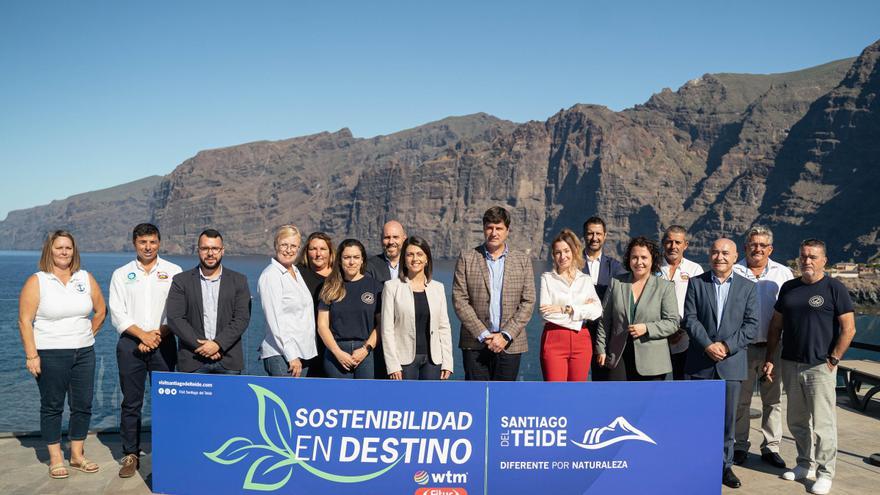 The Santiago del Teide City Council together with the companies, professionals, workers and workers of the municipality's tourism sector have established their strategy to turn the municipality into a sustainable destination, an example of fundamental public-private collaboration for the management and promotion of Santiago del Teide. As a result of this collaboration, the "Destination Sustainability" campaign was already presented at the last edition of the World Travel Market International Tourism Fair in London, where very good results were obtained and the alignment of Santiago del Teide with what Tour operators demand today in terms of sustainability in destinations.
This new promotional material shows how the destination, hand in hand with the hotel sector, has implemented projects for energy efficiency as well as improvement projects to achieve the integral water cycle, innovative aerothermal projects and those related to photovoltaic solar energy. All this, also, accompanied by the elimination of single-use plastic in all hotel complexes certified with the international Ecostars sustainability seal. Santiago del Teide currently has 91% of the hotel plant certified in sustainability through this international certificate.
To this we can add that we have the first whale sanctuary in Europe and the third worldwide in which the companies that carry out cetacean observation activities from the Los Gigantes Marina adhere to the sustainability charter, being an example of respect for the environment and the biodiversity that lives there.
In addition, by obtaining the highest environmental certification at European level (EMAS Flags), the only beaches in the Canary Islands with this seal, as well as the Q for Tourist Quality, the ISO 9001 and 14001 standards, have come to recognize the excellent quality environment and the services of the beach of La Arena and Los Guíos in Los Gigantes.
In line with the application of new technologies to tourism promotion, the new material will be posted on the Inventrip platform and thus present during the Fitur celebration through the geolocation of smart beacons in the busiest places in Madrid ( IFEMA, Madrid-Barajas Airport, Terminal T-4, Tenerife South and Tenerife North Airport, as well as the Atocha Station or the Méndez Álvarez Station) and, in addition, an NFC card has also been developed with this technology that contains the new promotional video for this campaign and a series of resources linked to this promotion that future visitors and those staying at the destination will be able to use when designing their trip to Santiago del Teide.