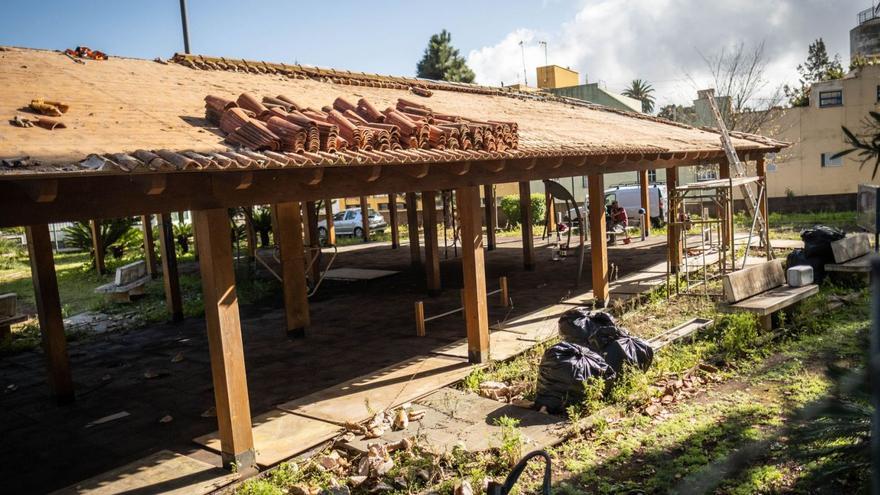 The works in the covered area of ​​the Las Peras road, the well-known sports area of The lagoonThey are finally running. The place closed its doors due to the confinement, in March 2020, and since then it has not reopened. The reason? A split beam. The definitive solution will be to remove the entire structure and leave the enclosure devoid of a roof. For this, for a few days, several operators have been working on the removal of the tiles.
"Both the wood of the structure and the tiles will be taken to the municipal warehouse of Camino de La Villa at the request of the surveyor in charge of municipal buildings for future actions in schools and other municipal buildings"specified from the City Council about the destination of the materials of this installation attached to the dirt track.
As will be remembered, the closure of the covered area also meant that an environment of several hundred square meters with benches and even a self-cleaning bathroom would remain inaccessible. It is a limited enclosure that, in addition, used to be used by athletes who carry out their training there to complete their laps around the circuit.
«Important information: users are informed that access to any person to use the machines in this space is prohibited [en referencia a los aparatos para hacer deporte de su interior], due to the danger of collapse of the canopy, until it is repaired. Thank you for your collaboration », picks up the poster that he has hung during this time on the outside bars.
Despite the apparently easy solution to the problem, the process to date has been labyrinthine. One of the first milestones is in May 2021, when a user asked the Councilor for Sports, Idaira Afonso, on Twitter about the opening date. The mayor of Unidas se Puede replied that the closure was due to "some damages on which work will begin in the next few days," and added: "The reopening will be shortly." In October 2021, the government group reported that the canopy had a "fracture" that compromised its stability and that, in principle, the best option was to remove it. The new novelty arrived already in March 2022 after another comment from a user on social networks. Afonso replied: "That area is closed due to a landslide in the covered area", and distanced himself from the action: "However, that work is not from the Sports area, although it has already been transferred to the competent area so that it can take action". .
In April 2022 it was learned that Works and Infrastructures was going to commission a study of the structure to determine the solution, in November the works were awarded and now, finally, they have already begun.