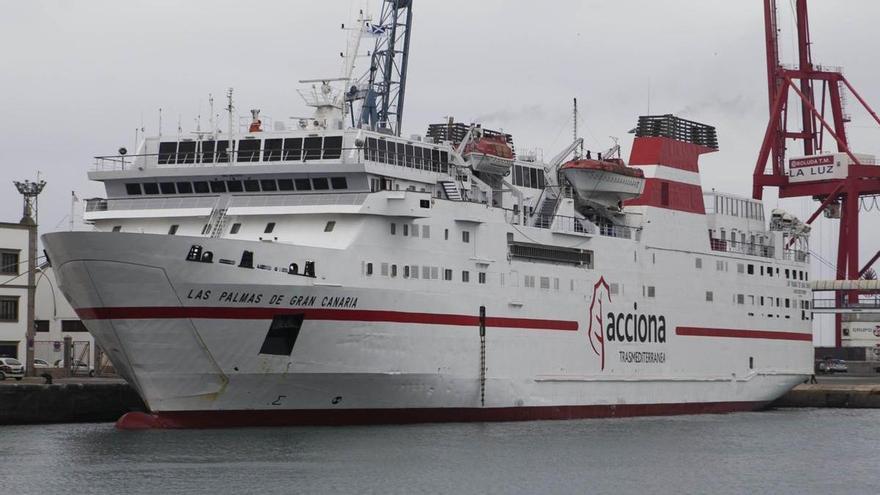 the historic ferry The Gran Canarian palms of the company Trasmediterranea – Naviera Armas this afternoon suffered an outbreak of fire in an auxiliary engine when it was docked in the port of Al Hoceima, in Morocco, without passengers on board. The crew itself was able to extinguish the fire with their own means. This ship covered the route between Las Palmas de Gran Canaria and Santa Cruz de Tenerife for years before the company decided to move it to the southern coast of the Peninsula.
The ship had arrived at around five in the afternoon, Canary Islands time, at the Moroccan dock from Motril in Almería. After the passengers and vehicles disembarked from the ferry, a fire started in the auxiliary engine that the workers themselves were able to put out with the means they have. Even so, the firefighters went to the ship to inspect the area affected by the flames, according to the sources consulted.
The The Gran Canarian palms It was built in 1993 to connect the two Canarian capitals. The ro-ro ship had a sister ferry from the same company, the 'Santa Cruz de Tenerife'. 116 meters long and 20 wide, It currently has capacity for 847 passengers -although it was conditioned for 1,120- and 190 passenger cars. He arrived on May 3 of that year at Puerto de La Luz, where a day later he was presented at an event attended by numerous authorities, according to the commemorative book for the 100 years of Trasmediterránea.
During the first six years it was used to unite the two main islands of the Archipelago until in 1999 it began to operate on the route between Barcelona and Palma de Mallorca and, a year later, Algeciras – Tangier and Algeciras – Ceuta. In June 2011 he returned to the Archipelago to inaugurate the new Santa Cruz de Tenerife – Las Palmas de Gran Canaria – Morro Jable line., although shortly after he returned to the Peninsula to cover the connections between Andalusia and Morocco through the Alboran Sea. The attempt, precisely, occurred on the route between Motril and Al Hoceima.