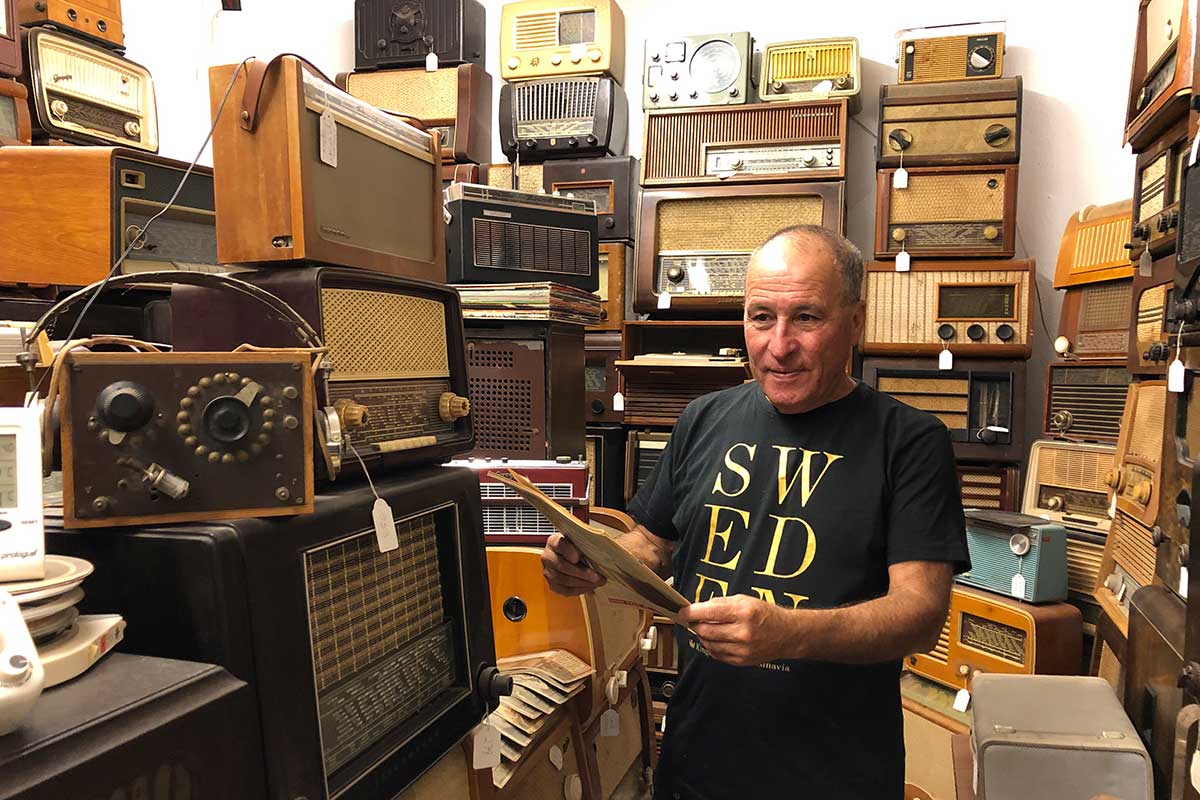 There are almost as many radios from all eras as there are days in the year, 360. Vladimiro Regalado Armas, a resident of Guaza (Arona), has been acquiring them throughout his life to give shape to the private museum that he has set up in his house and that he keeps like a treasure.
At 67, this retiree from Los Cristianos looks back and remembers the origin of his passion for old devices, which he discovered as a child when he fixed his mother's black and white television, and which he confirmed when, with 21 years old, recently arrived in Sweden, he witnessed the fuel used to light the bonfires at a local party: "People were throwing chairs, furniture and old radios! I tried to save them, but they told me that nothing could be touched. That hurt me and I said: I'm going to gather as many as I can and not one more will burn here. And so I started collecting them.
Vladimiro then gave up smoking to buy old gadgets. That's where his great passion began. He today he does not know what he has, in economic terms, in a room that has become too small to store so much history and pile up so many memories. In fact, due to lack of space, he keeps some of the acquisitions in an adjoining workshop, where he has the necessary material for repairs.
"How much can this be worth? I have no idea, but here is a fortune. All devices are original, exclusive, some still work. There are Russian, Swedish, Danish… even Argentine brands. Their true value is that none of them can be bought today", he explains to DIARIO DE AVISOS, while underlining the costs he has had to assume to form a unique collection: "I have been buying them in Sweden, Saint Petersburg, Latvia, Norway, Denmark, Poland, Germany, France… I have traveled kilometers and kilometers to go look for them and bring them from abroad it has cost me a fortune: what if the expense of a van, gasoline, hotels to sleep, the boat trip to Tenerife…"
Among the jewels of the domestic museum is included "the radio that Hitler ordered to be built for the people. Just as Germany chose the Volkswagen as the car for the people, Hitler commissioned this model [muestra un ejemplar de chapa negra y forma rectangular] to popularize radio. Vladimir also proudly displays a Nordic-made device with Swedish crowns stamped on the glass dating from the early decades of the last century.
Asked about the units with the greatest sentimental or economic value, this water engineer, who continues to travel to Sweden in the summer to repair heaters and air conditioners, acknowledges that "it is difficult", because "each one has its charm and its history, and I cannot say this one is more beautiful than the other".
"See this chapel radio? Or is this one made of galena with a small lamp from the beginning of the 20th century? Or that marine radio for communications from the high seas capable of reading the Morse signals of the lighthouses?: how much can they be worth? Well, for those who don't love the radio they are surely worth nothing, but for those who want it, pay whatever it takes, because he's not going to get them anywhere?", he explains.
After the journey through the history of the 20th century through 360 radio models from different stages, to the question of why he has not mounted an exhibition with such precious material, Vladimiro attributes it to the "passivity" and "lack of sensitivity " of the municipalities. "There are no councilors who appreciate what this means. Someone from the South has come this way and said: Where do I put this? It is as if I gave you three sacks of potatoes and you, hungry, tell me where do I put them? This is culture, but those people don't know it, they don't have enough awareness to make this a public museum".
Now, tired of the fact that his message is not heard on the same wavelength by politicians, he announces through this newspaper that he is putting the entire collection up for sale. "All together, not separately," he clarifies, although he admits that he has not set his price: "How much am I going to ask for? The truth is that I don't know", aware that there is no meter that determines the cost of the passion of a lifetime.
Vladimiro wants to sell part of the house – a double room attached to his house – with his treasure inside. "I always thought that the collection would be a success and that a radio museum could be set up in an area like Playa de Las Américas, but there is no illusion, so I have already decided: I will sell everything and get out." That all includes the workshop with the necessary tools and different spare parts to repair any radio, including more than 1,000 lamps and around 500 pick-up and turntable needles, "now that vinyl is making a strong comeback," he adds.
In addition, in the warehouse there is a jukebox without batteries from the year 1908, a collection of original Elvis Presley records, magazines from the 50s and large original one and a half volt batteries. "Whoever wants to set up a museum, I'll give it to them already," he says.
The collector from Guaza, a daily radio listener, acknowledges that when someone visits his home, a house near the South highway, he is "amazed" and stresses that there is no exhibition of this level and size in the Canary Islands: " I have not seen it nor am I aware of it".
He admits that he is "very sorry" to part with the apple of his eye. "It breaks my heart, but if I die, what will happen to this? Did they set it on fire? Her comment gives us the opportunity to ask her one last question: And if you had time to save a device from the flames, which radio would you choose? "Well, the first one I take, and if necessary I'll burn to save it."
From Hitler's speeches to the arrival on the Moon
Vladimiro Regalado's eyes light up when he enters his world, a double room where he stores the memories of a lifetime scattered among almost 400 radio sets acquired throughout his life throughout Europe and which today rest in silence after being witnesses of much of the history of the 20th century. His speakers have broadcast Hitler speeches, parts of the Civil War, the announcement of the discovery of penicillin or the arrival of man on the Moon