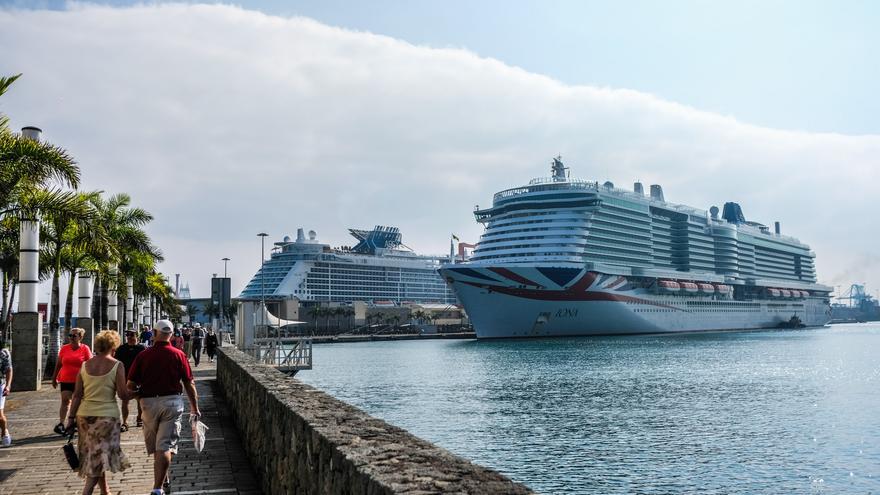 The pace of cruise ship arrivals in the Port of Las Palmas has notably intensified during the current month of October. The high season has kicked off with the arrival of some of the great giants included in the stopover schedule published by the Port Authority for the autumn-winter period.
For the remainder of the month, it is expected that there will be another 15 scaleswithin the 273 planned for the 2022/2023 period by the port manager, approximately the same (283) that the capital city received during the 2021/2022 campaign.
If already last Tuesday, the Athem of the Seas -the largest cruise ship that visits La Luz this year-, from Royal Caribbean, completed its third stopover since the beginning of the campaign, this week another two megaships will arrive: the ionaof P&O Cruises, and the Celebrity Silohuetteof Celebrity Cruises, both consigned by Hamilton and Company.
The iona will remain this Friday at the Santa Catalina pier between 8:00 a.m. and 7:00 p.m., coming from Lanzarote and bound for Tenerife. The English ship is among the largest cruise ships in the world, measuring 344.5 meters in length and 8.6 meters in draft and with the capacity to accommodate up to five thousand passengers. She has the peculiarity of having the United Kingdom flag painted on her bow (Union Jack). Inaugurated in 2021, it is a new generation cruise ship with luxury rooms, terraces with panoramic views and other attractions that are distributed among its eighteen decks. The ship will return to the Island up to three more times in the coming months.
The Celebrity Silhouette reach on Saturday, at 7:00 a.m., to capital waters, from Tenerife and will set sail for Lisbon (Portugal). The ship is 315 meters long and 8.3 meters deep and has a capacity of 3,000 passengers and a thousand crew members.
Stores open on Sundays
With the start of the high season, the specific hours for shops and businesses and areas with a large tourist influx began until next April, including those in the capital, thus giving cruise passengers the possibility of visit and make your purchases during the time they make a stopover. It should be remembered that the Port Authority has set up some provisional tents on the Santa Catalina pier, which serve as a cruise terminal while the demolition of the old and construction of the new infrastructure lasts. In addition, the Tourism area of ​​Las Palmas de Gran Canaria indicates that it will set up an information point at the foot of the ship for passengers, who have convenient access to the urban area and the rest of the mobility options offered by the city. | XL