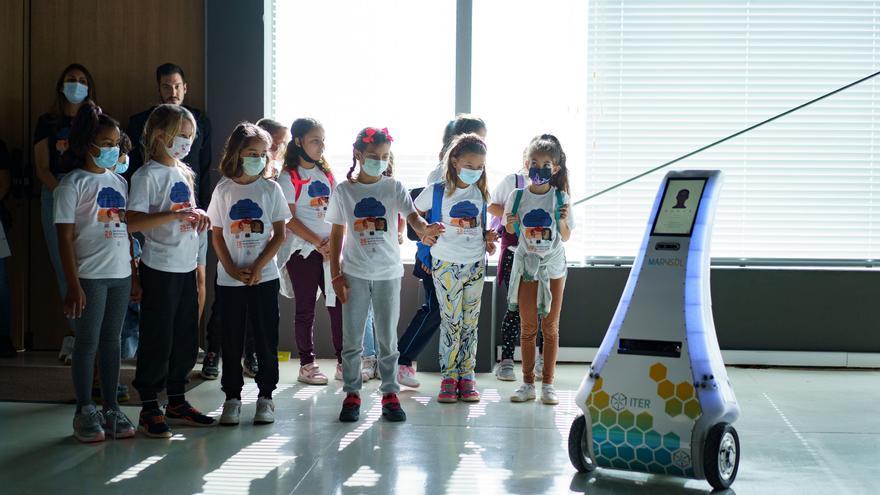 The assistant robot Marysol has attended and accompanied more than 200 visitors who have come to the Visitor Center of the Technological and Renewable Energy Institute (ITER) since last April.
With the ability to move on two wheels and move autonomously around the facilities, Marysol is responsible for supporting guided tours, answering questions, playing audiovisual content, showing real-time data on the generation of renewable energy at the facilities ITER or data of general interest on the island of Tenerife as the demand for electricity.
Designed and built by the Institute's Robotics Unit, Marysol is able to avoid obstacles while moving, continuously learning to recognize the environment. At the same time, and thanks to artificial intelligence, it interacts with people through voice commands and a touch screen interface.
Marysol is the first self-developed assistant robot, designed, manufactured and programmed entirely on the island of Tenerife and who is serving.
This project is part of the collaboration agreement that ITER signed in 2018 with the Autonomous Organism of Museums and Centers of the Cabildo de Tenerife and the public company Grantecan SA to design and build a robot that would assist visits in each of these centers , under the names of Marysol, Gara and Cosme, respectively, with the aim of contributing to disseminating science and strengthening communication channels with citizens.
The Marysol robot has been very well received among visitors to ITER, especially among the youngest, and has become a fundamental tool for bringing the technological developments carried out by the ITER Robotics Unit closer together in a pleasant, attractive and visual.
Throughout the execution of the Marysol project, a modular development methodology has been chosen, using open source development tools and libraries. In this way, the project not only covers ITER's needs in terms of dissemination, but at the same time serves as a platform for future development by other users or external entities, since all the resources and results generated are freely available. public in the open access repository https://gitlab.com/iter-robotica/marysol.
More information about the Marysol project can be found on the project website http://marysol.iter.es.