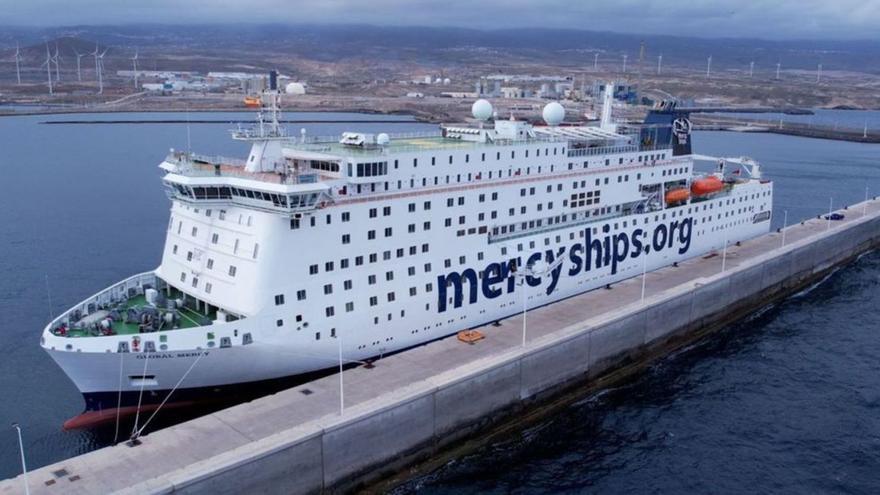 A reception by the ship's captain, a guided tour of its hospital facilities, a presentation of the project in the ship's auditorium and, finally, a gala dinner. The Global Mercy, considered the largest civilian hospital ship in the worldwill open its doors next Saturday, July 9, to raise funds with which to maintain its cooperation projects in Senegal. The boat, owned by the humanitarian organization Mercy Ships, is located precisely in the West African country and will return to the dock in Passion fruit next tuesday july 5tha facility in which he already stayed for a few months before leaving at the end of May for Senegal.
The charity event on Saturday July 9 is organized by the Rotary Club Madrid Serrano. The humanitarian organization intends with the funds obtained in this activity to provide medical equipment to the Global Mercy. It also plans, in collaboration with African Rotary Clubs, to train doctors, nurses and local health workers in maternal and child health, first aid and hygiene. This ship of more than 176 meters in length has operating rooms, an auditorium, nursing rooms and all kinds of medical equipment. She will set sail again from Tenerife to Senegal after this new stop on a date to be specified to provide important humanitarian work in Senegal.
As a hospital, and among its multiple facilities, the ship has six operating rooms in which a team of 30 professionals attends to any surgical intervention, free of charge, with the guarantee of having recovery areas and, if necessary, isolation to treat diseases such as Ebola, "which seems to be on the rise in certain areas of Africa». This was stated by Gerardo Vangioni, president of Naves de la Esperanza in Spain, to the president and director of Puertos de Tenerife, Carlos González and Javier Mora, respectively, during the visit to the ship the day before its preventive closure to avoid contagion by covid , prior to his departure, on May 23.
Rotary is a non-political and non-denominational international organization, made up of institutional, business and professional leaders that provides humanitarian aid to the most disadvantaged groups, encourages the practice of high standards of ethics and excellence in all occupations and contributes to preserving and promoting peace throughout the world. To sign up, you should go to the following email: [email protected].