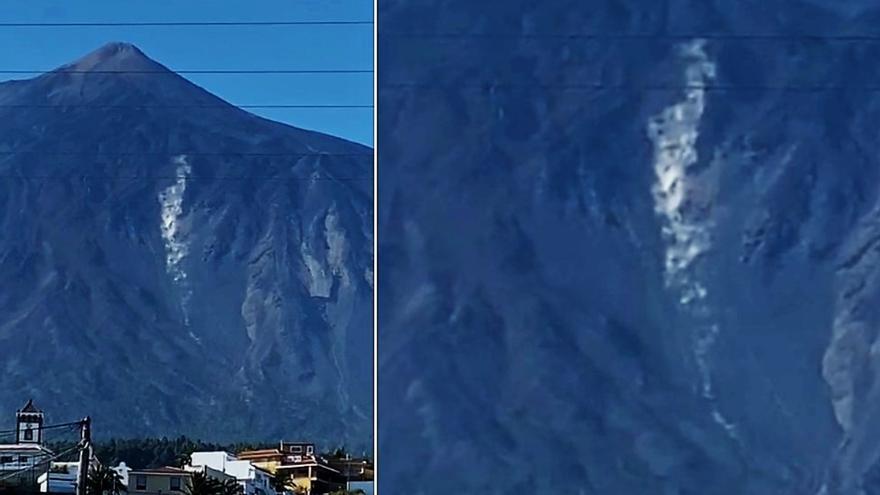 The National Geographic Institute (IGN) rule out any relationship between the collapse in The Teide Recorded by an individual and disseminated on social networks with the recent episode of seismicity recorded in the area.
In statements to Efe, Itahiza Dominguez, an IGN seismologist, considers such a relationship "impossible" because last weekend's earthquakes were "very small." "Any gust of wind on the surface is stronger than the earthquake signal in that area," Domínguez illustrates.
He points out that in the eruption in Cumbre Vieja, La Palmayes they were registered earthquake-related landslidesbut those of greater magnitude, of 4 or higher.
Domínguez attributes the landslide on El Teide to the fact that it occurred in a "very steep" area of ​​the volcano and in which, as can be seen in the images, and also in other satellite images, there is accumulated material from previous landslides.
In The Teideas in other stratovolcanoes in the Canary Islands"the material, which accumulates during the eruption, is in an unstable position", and in the long run "it crumbles in part. It is a normal process", Domínguez abounds.
He explains that if he echoed the video of the collapse on Teide on social networks is because for the first time there are images that corroborate that, indeed, the IGN seismic stations detect such landslides.
Other times they "intuited" it but had no way of verifying it empirically.
Otherwise, it indicates that seismic activity in El Teide "It's back to how it was two weeks ago, when no one was worried."
There are "earthquakes from time to time", with a frequency that fluctuates between five and ten a week.
"It is within the pattern that we have been detecting in recent years," he adds.
What went a bit off the script was the seismic swarm with more than 400 movements detected in a three-hour interval in the early hours of last Friday. But there have been three similar ones in the last six years.