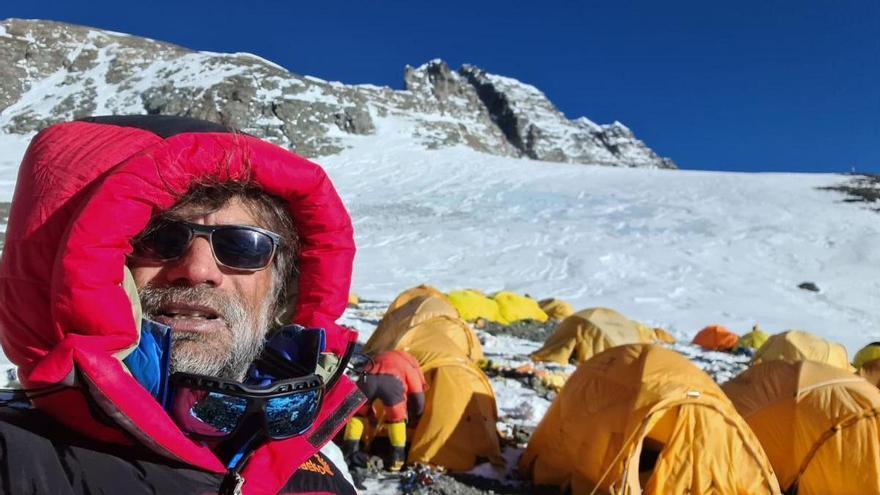 At the age of 8, he went up for the first time to the Mount Teide (3,715 meters), a volcano to whose summit he has returned more than a hundred times in his life. Orotavense Anto Pérez is a lover of travel and the mountains who, since 1997, when he became an official of Posthe spends the free time that his work as a postman leaves him to travel half world mountains. and she has done progressively, climbing step by step in the height of its challenges. Until becoming, on May 16, 2022, the first Canary in crown the Lhotse (8,516 meters). And in the third that ascends a eight thousandafter Juan Diego Amador from Tenerife and Javier Cruz from Gran Canaria. An experience difficult to explain that he compares to "being on another planet."
His passion for the mountains "has been a whole process." Anthony Perez I had never considered uploading a eight thousand until in 2021 he tried it in the Manaslu (8,163 meters). «When I was 12 or 13 years old I started to go camping, then to visit other islands, but when I took out my exams at the Post Office, I started traveling abroad: first to the Pyrenees, then to the Alps, later to South America and finally to the Himalayas. I have climbed the mountains meter by meter. Before this 8,000 he had already climbed many 5,000 and 6,000, and some 7,000, such as Lenin Peak (7,134), in Kyrgyzstan, or Muztagata (7,509), in China », he recalls.
After the failed attempt to crown the ManasluAnto Pérez set his sights on the Lhotse and organized an expedition in which he made a first section together with the mountaineer from La Orotava Fefi Hernandezwhich included a two-week trek through the Himalayas, the ascent of Lobuche East (6,119 meters) and the journey to the base camp of the Everest, at an altitude of 5,360 meters. "A small town where the yak (large bovids with woolly fur) arrive with cargo and helicopters, and you can enjoy individual tents and other amenities," explains Anto Pérez. When Fefi Hernández returned to La Orotava, with her challenge achieved to make visible the work of Afes and the importance of mental health care, the highest-reaching Canarian postman spent a few very hard weeks of acclimatization and preparation until reaching the top of Lhotse.
Anto Pérez lost ten kilos in this very hard expedition in which, in the second attempt to attack the top, he had to choose between abandoning or using the help of artificial oxygen, "like more than 90% of the people who try to crown Lhotse." He doubted a lot, but after accepting the bottles left over from an injured Japanese mountaineer, he was able to achieve his goal and make visible, next to the roof of the world, the work of Pigeon Trail Projectwho fights daily against multiple sclerosis.
Very weakened by the titanic effort in the himalayas, Anto Pérez had the bad luck to get Covid when he returned to civilization, "probably in Kathmandu". The coronavirus was complicated and he had to stay in a hospital for nine days. Happily recovered, and about to return to his daily work of delivering letters and packages, this mountain postman shares an unforgettable experience with EL DÍA. A challenge for which he prepared thoroughlyspending the 13 weekends last winter always at more than 3,300 meters of altitude.
Anto finds it hard to describe what he feels beyond the "death zone", where it is recommended to spend as little time as possible, oxygen is scarce and the human body is on the verge of collapse. "It's like being on another planet, in another world. Everything goes slower, everything costs more. I've never been in space, but I felt that way. The movements must be extremely slow because any effort, no matter how small, leaves you breathless. Putting on the boots leaves you gasping for life."
"Your steps are very slow and you feel tremendous vulnerability because you know that at that moment you would be unable to do many things and that your ability to react is minimal. It is very difficult to convey how you feel to someone who has not been in that situation. We left the last field at midnight and didn't reach the top until 9:10 in the morning.. To overcome between 650 and 700 meters of difference in altitude, it takes us 9 hours and 10 minutes. That gives an idea of ​​the hardness », he explains.
«You can not eat, your digestive system is paralyzed, and even if you force yourself, the body knows that in this situation it is more efficient to use your body's reserves because it does not have the capacity or energy to digest. At that altitude (above 7,500 meters) can't sleep either».
In his acclimatization he had to overcome four times the dreaded Icefall, "a chaotic glacier full of dangers, where you hear the ice crack and break away". He traveled "practically 80% of the route followed by those who climb Everest", until his path forked at the South Col, at almost 8,000 meters. It is the area where climbers who go to the highest peak in the world or the fourth summit on the planet separate. A boxed, monotonous and exhausting passage that leads to a last rock wall of about twenty meters that gives access to a summit that "is not the most beautiful or the most comfortable. There is barely room for two people. But only for the views of Everestpractically at your height, it's already worth everything ».
Regarding the future, Anthony Perez He assumes that he is 51 years old and that it is time to think about the limits of the body, but he is also clear that his life is "working to travel and discover mountains, so I do not close the door to face another eight thousand Y I would like to try this time without oxygen supply».