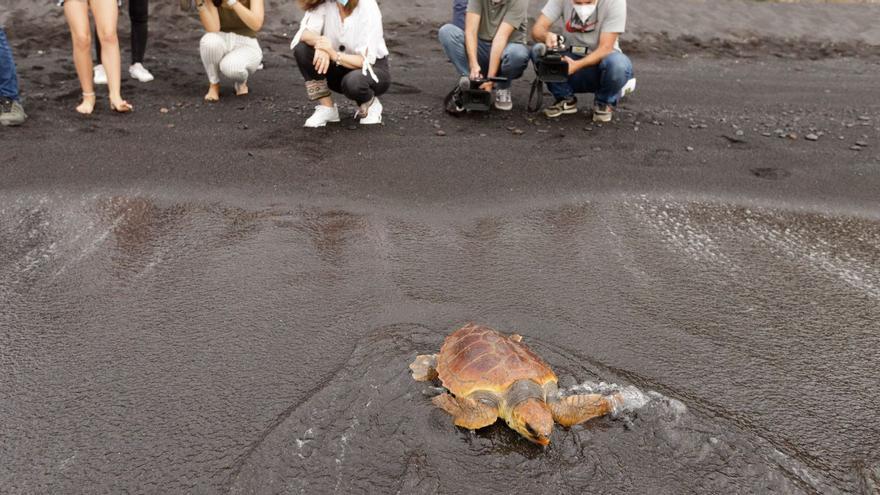 La Tahonilla cares for more than 90 sea turtles with some pathology each year. The Minister of Management of the Natural Environment and Security, Isabel García, highlights the awareness programs with individuals and professionals of the sea, in addition to the installation of the new turtle rehabilitation tanks in the center.
The Council of Tenerife, throughout the insular area, cares for these animals every year when they are affected by entanglement or ingestion of plastic, for which they are treated and rehabilitated. Those that are able to do so are returned to the sea. Today, June 16, World Sea Turtle Day is celebrated, an event to raise awareness about the status of these species in the seas around the world.
The La Tahonilla Wildlife Recovery Center, Located in La Laguna, it is a national reference in the treatment of sea turtles rescued from the sea affected by accidents or other causes. During 2021, the center recovered 91 specimens, many of which, after their recovery, were returned to their natural environment. The most common species on the Canary coasts are the loggerhead turtle (Caretta caretta) or the green turtle (Chelonia mydas).
"Every year many turtles with different conditions enter the fauna recovery center of the Cabildo, which are treated and returned to the sea once they have recovered," indicates the councilor García, who adds that "in La Tahonilla we have recently inaugurated a complex of swimming pools that emulate maritime conditions, to motivate the recovery of these animals in the shortest possible time. The counselor points out that, in addition, "an environmental awareness program has been launched with sea professionals so that they take extreme precautions related to their fishing gear."
This center registers a high number of admissions of this type of animal every month. Of these turtles, "many have to undergo surgery and a high number have even had their fins amputated." This is assured by the center's veterinarian, Alejandro Suárez, who explains that they are mainly due to "an advanced state of deterioration due to entanglement with drifting fishing gear, raffia and other waste." «The problem of plastic in the sea has become pressing and it cannot be blamed only on the waters near the Island," says Suárez, because "in many cases, these animals can get entangled thousands of kilometers from here," concludes the professional.