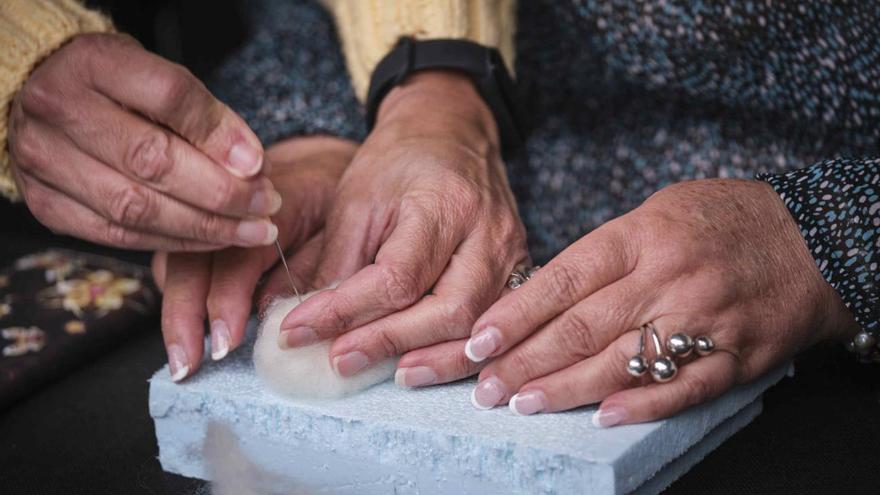 Wool can also be a raw material to create works of art. It is only enough to see the work with the needle felting technique of Tenerife-born Sandra Trujillo, whose workshop yesterday afternoon opened the IX Canarian Wool Festival, which is being held in La Orotava. Until Saturday, this festival will try to lay the foundations for the survival of techniques that have been part of Canarian culture since the Guanches.
The skillful artisan hands of Sandra Trujillo from Tenerife yesterday opened the IX Canarian Wool Festival, which is being held in La Orotava. Trujillo showed a dozen apprentices the techniques that have made her an expert in needle felting. It is a technique that allows wool to be worked with such skill that true works of art such as dolls can be made.
The festival, which takes place until Saturday in the Orotavense municipality, claims the importance of a sector "in danger of extinction." This is confirmed by Trujillo, the first expert to give a workshop yesterday afternoon at the Museum of Ibero-American Crafts in Tenerife. "I think this festival is fantastic for the survival of wool treatment techniques that have been part of our culture since aboriginal times," she says shortly before her workshop begins.
Sandra Trujillo recalls that needle felting is a "much more refined" technique than the most widely used for working with wool, fulling, the most generic way of manipulating this fabric and with which garments, blankets, lamps or footwear. "With needle felting you can create more creative and elaborate pieces. In this workshop I have given basic notions because it is a complex formula that requires a lot of work », she details.
Some of the works that Sandra Trujillo has created can be enjoyed in the art gallery of the Hotel Iberostar Sabila, in Costa Adeje. A tapestry with a collection of sculptures and a hare with a large fairy are on display there. «Years ago I learned about this technique, I liked it and I have specialized. It is not very common in the Canary Islands, but in European countries such as Germany", comments the craftswoman from Tenerife.
The IX Canarian Wool Festival offers today (7:00 p.m.) an online conference on nomadic shepherdesses, entitled Zagala and Rabadana. Also today (5:00 p.m. to 7:00 p.m.), at the Museum of Ibero-American Crafts of Tenerife, in La Orotava, there will be a crochet workshop to make bookmarks in the shape of a sheep.