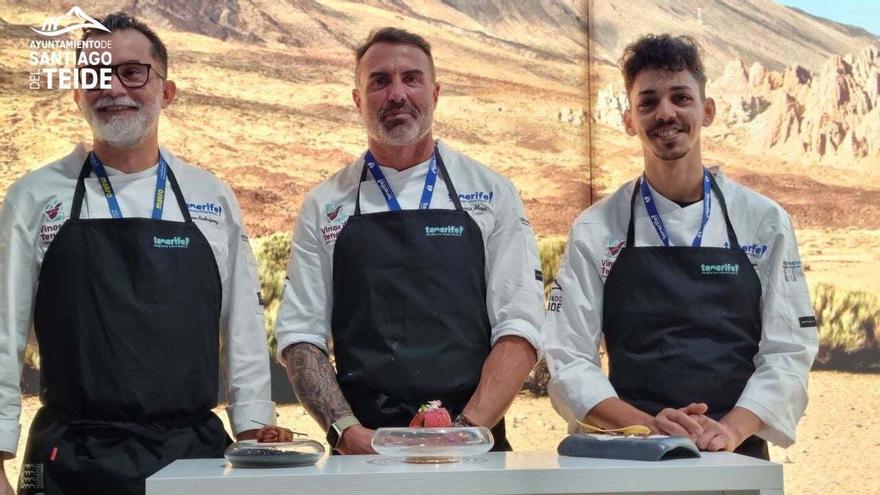 During the three days of Madrid Fusión and, above all, on Tuesday, March 29, which was when our local chefs offered the gastronomic preparations made with our km0 products, the municipality within the Tenerife Tourism stand became a coming and going of people who enjoyed the SDT Gastro Lovers seal with a great success in ratings among visitors.
Although the star of its elaborations was the bluefin tuna fished in the area, the catalog of products that Santiago del Teide brought to Madrid Fusión did not stop there but also almonds, honey, barraquito, mojos and wines were present local.
The local chefs who attended the event, Samuel Morales, Francisco Rodríguez and Lucas Maes, through show cooking, prepared attractive dishes and tapas with bluefin tuna as the protagonist that delighted the attendees at the Tenerife stand. For its part, the local company Macaronesia Coffee Shop Bakery made two cookies using our almonds as the main ingredient, while the sommelier Mario Rodríguez reviewed the area's wines.
The municipal delegation headed by the Mayor Emilio Navarro and the Councilor for Local Development, Krysten Martín, positively valued Madrid Fusión 2022 under the SDT Gastro Lovers gastronomic label that for some years has put our gastronomy and our products in the world showcase.
Every year the municipality becomes gastronomically gigantic and causes a stir among visitors for the quality of its products and for the quality of its chefs with recognized prestige.