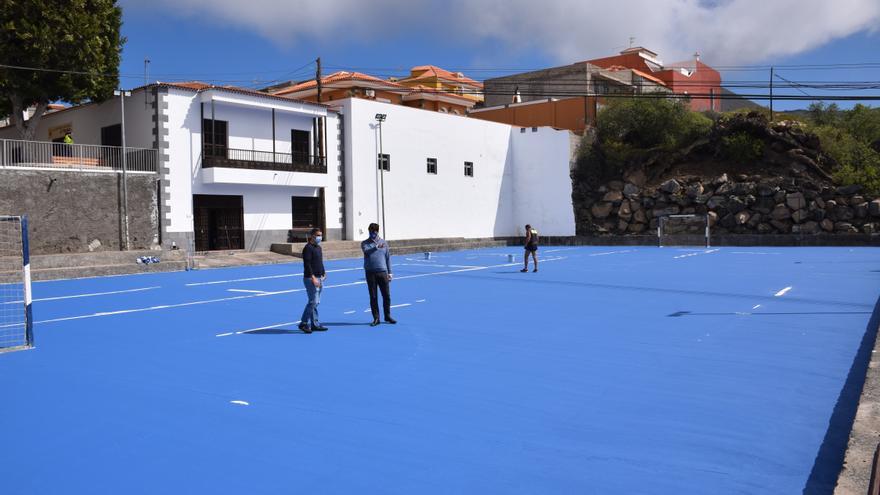 Mayor Emilio Navarro accompanied by the Councilor for Sports, Juan Carlos González, recently visited the work being carried out at the El Molledo sports center.
During the visit to these facilities, they were able to appreciate the progress of the works that are being carried out despite the atmospheric inconveniences consisting of cleaning the area, repairing and cleaning up the cracks that have formed due to the breaking of the asphalt and the removal of weeds that, due to the depth of the ground, have come to the surface through cracks in the pavement.
The repair of the sports center lies in using specific resins to fill the cracks, thus reinforcing the weakest and most vulnerable points with fiberglass mesh, thus achieving an update of the system that unifies the support so that, despite the longevity of the facilities, can ensure safe and quality use for a longer time.
Once the cracks have been repaired, 2 layers of ground regularization will be applied, made up of silica microgranules to finish with two layers of acrylic resin, in different composition proportions, with a blue finish. In addition, the work will be finished with a final coat of paint, to provide more quality and well-being to its use, carrying out a new football and basketball market.
Finally, the works will end with the painting of the tubes and the replacement of the mesh in the perimeter fence. This reform will undoubtedly leave a municipal facility at the height of the needs and the quality