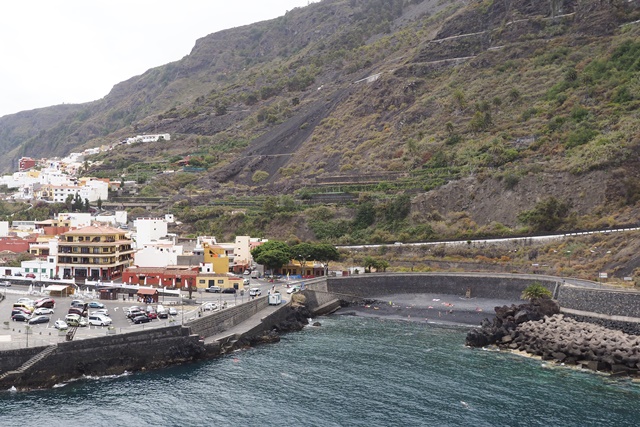 The City Council of the Villa and Port of Garachico will know today the results on the state of the water of the beach of the pier that the municipal government closed on Saturday before the appearance of a greenish stain towards the west. A decision that was adopted "as a precaution", confirms the mayor, José Heriberto González, given the turbidity in the water and the possible risk of microalgae, as indicated by the sign that prohibits access to the bathing area.
Although the exact reasons are unknown, the president decided that the most prudent thing to do was to collect water samples to be analyzed by the laboratory that performs the analysis of domestic water and beaches at the City Council and wait for the results they produce.
A step that he took on Monday together with the Beaches councilor, Andrés David Hernández, given that the weekend was impossible because the laboratory was closed, and that many citizens did not understand since it is one of the favorite places to take a dip in the neighbors of the whole region.
So far, all the analyzes carried out periodically by the General Directorate of Public Health of the Canarian Government have not yielded any negative results, "quite the opposite," says González.
The mayor explains that "every year when there are calm tides -or 'sobadas', as older people say- and the water does not flow, the beach is like a pond and small groups of algae usually enter through the currents that usually carry them towards the side of Los Silos and they formed a group ", the green spot that many users saw and that is why they alerted the lifeguards. "It is true that it is becoming clearer, but for a week the renewal of the water has been almost nil," he adds.
The president ensures that according to the transfer from the laboratory 48 hours is the ideal time that has to pass for the culture to be more reliable.
Previously, the two pumping stations that were renovated in 2015 were reviewed and have never had any problems so far. "The operator reviewed it and there was no problem and there is no point where it can be poured," he says.
"In principle it is thought that they are remnants of algae that come from more distant waters and that the currents have brought them to Garachico but given the turbidity of the water, as a precaution, we decided to close it," insists González who adds that its opening to the public will depend on the results of analytics today.