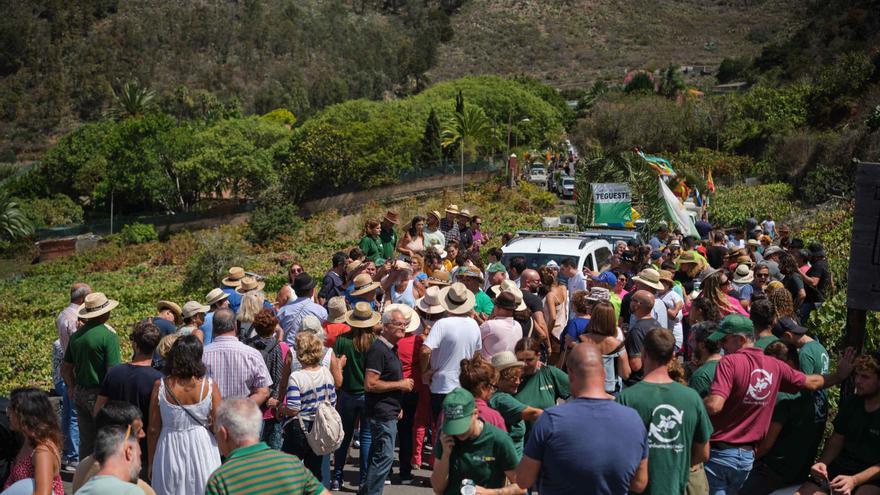 Winegrowers and vintners from Tegueste, together with family, friends and neighbors, celebrated yesterday the blessing of the vineyards, a festival that began in 1968 and has gained strength again for more than three decades. The satisfaction with harvesting the harvest and the pride in maintaining the cultivation of the land among those who participate in the Harvest Festival contrasts with a landscape of the municipality in which, each time, there are fewer farms in operation. Vineyards and other crops are declining in a municipality that, historically, has been eminently agricultural and that defends that trajectory in different festivities.
The organization is in charge of the Tegueste City Council, the Tegueste Wine Association (Tegueste) and the El Lomo-El Infierno neighborhood group. The attendees claim their role in the area with a caravan that starts from the vicinity of the Finca de Los Zamorano, travels through part of the town center of the municipality between whistles and lively music, and then enters a more rural environment, until passing through El Lomo -El Infierno and reach the Plaza de La Padilla Baja. SUVs decorated with palm trees, trucks full of people, tractors and some other specific vehicles for use inside farms star in this tour. In them or in private vehicles are people of all ages willing to have a good time, eat and drink good wine.
Those in charge of putting the music on straight They are the members of the Los Esponjas del Norte fanfare, who cheer from the dump truck or wherever the procession stops.
Near La Padilla Baja, the caravan stops. And the parish priest of Tegueste, José Manuel, blesses the vineyards. As explained by the Councilor for Local Development and Employment from Tegueste, Maura Martel, the blessing is carried out so that next year there will be a good harvest, that good wines will be produced, so that so many lands are not abandoned and vineyards are cultivated.
After the religious ceremony, the mayor, Ana Rosa Mena de Dios, reminded the dozens of people present that "we celebrate the earth, life and the vine", in a few days in which there have been hours of rain and also sun.
This experience is an endearing, simple party in which attendees share their experiences in the countryside and memories. And it takes place in parallel and jointly with the El Lomo-El Infierno festivities, in honor of the Virgin of Gloria.
After the magicians' dance, which took place on Saturday afternoon, yesterday the lands that are still cultivated were honored. The president of Avite, Sotero Díaz del Castillo, explains that the Harvest Festival was started by his father in 1968. There were years in which it was barely an excursion, until it gained strength again during Vidal Suárez's time as mayor of Teguestero, specifically, between the late 80s and early 90s.
Currently, the group of winegrowers and vintners in the municipality has more than two hundred members, although more than a hundred are amateurs and consumers, as they lack farms on which to cultivate and wineries. Between 60 and 80 members have land and produce grapes. But only a few dozen have sufficient capacity to market wine.
Sotero states that "the best thing we have is that the quality of the wine produced in Tegueste has increased considerably in the last 40 years." To what do you attribute this qualitative evolution? He responds that the key is the "technical part, the attention and the products that are applied during the process for stabilization, with filters or aromatic yeasts, for example."
There is a general comment. Fewer and fewer cultivated farms are seen in this part of the Island. Marisa Díaz, daughter of the president of Avite, comments that the reduction in cultivated area is very visible in the last ten or twenty years.
Sotero believes that this reality is due to many causes. In his opinion, one of them is that "youth do not opt ​​for the countryside", since "life has evolved and young people prefer to study."
But he also considers that there are other serious obstacles, such as the demands that administrations place on farmers and the costs of phytosanitary products, among other things. A bag of guano has gone from costing 12 euros to 48 in a short time, to give an example.
And then there are labor costs. And one of the fundamental elements is water, "that there is less and less and it is more expensive", according to Díaz del Castillo. Along these lines, he points out that those agricultural producers who have water have it easier, but the rest do not. In parallel, he indicates that there are already wells that do not work, currently "it does not rain like before", and, furthermore, "the vast majority of runoff water is not used", but rather goes to the sea.
While the participants in the festivity eat and quench their thirst in the plaza of La Padilla Baja, the president of Avite says that he began taking care of cows when he was six years old.
Like many people of his generation and others that preceded them, before going to school he had to feed the animals and milk them. Sotero would have liked to study, but he couldn't. However, he managed to obtain his primary school certificate. And his ability has allowed him to be a multifaceted person.
Since he was a child he heard his grandfather and his friends talk, showing their concern for the future: "What will happen to this when we are no longer here?" The difference with today, Sotero clarifies, is that back then many of his children and grandchildren "were there and we knew how to do it," in reference to field tasks. At this time, he states that "Many young people of 20 or 25 years old who inherit a piece of land measuring 2,000 or 3,000 square meters do not know how to cultivate it."
But another of the inevitable issues when talking about wine production is the fraud that some companies allegedly commit. Díaz del Castillo insists that his firm, Bodegas Mederos, "is registered in everything." "But in Tenerife There are wineries that sell wine without having vineyards or their own wine at all. Canary Islands», he says. And he prefers not to name names, although he points out that if it is sold as a product from Tenerife, the image of this Island will go badly among expert consumers.
And another recurring aspect is profitability. According to the spokesperson for the winegrowers and vintners of Tegueste, in this area and in others in Tenerife, wine is sold at a price equal to that of three decades ago.
The increasingly common heat waves cause the harvest to come earlier in the traditional annual cycle. Thus, in recent years in many parts of Tenerife it has gone from taking place in September to taking place from July.
Díaz del Castillo comments that this year in Tegueste there has been between 10 and 15 percent more production, to which we must add that the quality has also been better than in previous years. "In the harvests in which I have participated, which have been twelve or more, only in one did production drop a little, but in the rest the quality and quantity increased," Sotero clarifies. He points out that "we are happy with what there is." He clarifies that there is a certain displeasure with the farms that are abandoned.
The different awards were presented in the El Lomo-El Infierno festival tent. The distinction for best grape harvester this year went to David Gonzalez Díaz, "for his dedication and generous participation, year after year, in the town's grape harvest, as well as his contribution to the maintenance of this traditional activity."
The first prize in grape clusters of classic varieties went to Pedro Rodríguez Armas, with the listán blanco variety. And the winner of the cluster of Canarian vineyards is Bodega El Lomo, with the Castilian variety.