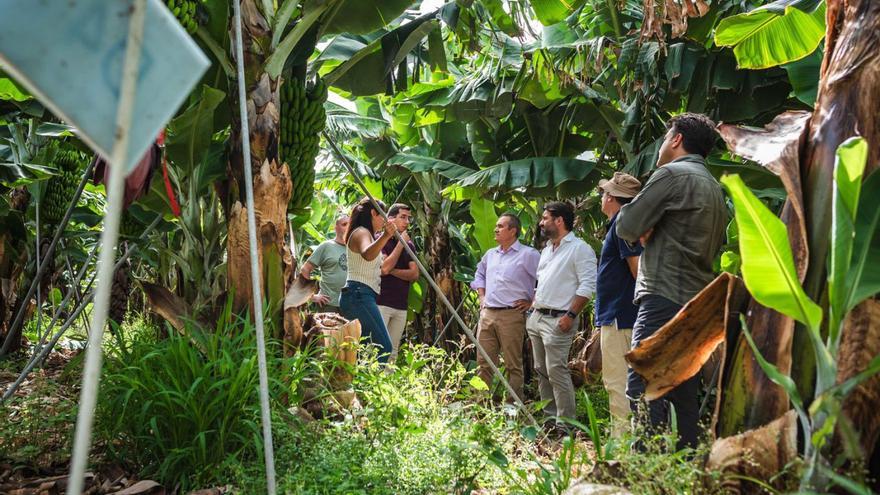 The Council of Tenerife it invests just over 260,000 euros in promoting efficiency in irrigation and fertilization to alleviate the drought suffered by the island countryside. The initiative will take place over 24 months in different banana farms on the Island.
The directors of Industry and Primary Sector, Manuel Fernandez and Valentine gonzalezvisited the La Quinta Roja farm, in Garachico, where the Irrigation Office is located, to detail on the spot what this aid consists of to the island producers.
The game, with a finalist character, amounts specifically to 262,355 euros. They are intended to carry out work to promote the adaptation to climate change of agricultural activity. In a period of pressing drought for the Tenerife countryside, this is one of the measures designed to alleviate it. Another is, for example, setting up desalination plants in places where the water deficit is especially serious, such as Isla Baja.
The subsidy, approved in the last Island Government Council, seeks to "promote the efficient use of water resources and achieve a rational management of them." The responsible councilors visited the farm, owned by the Cabildo, where a "fundamental resource for the agricultural sector" is located: the Irrigation Office of Tenerife. A facility, unique on the Island, where actions related to innovation in the primary sector are carried out, "basic for efficiency in the rational use of resources," they point out.
The Irrigator's Office carries out a series of tests on banana plantations for irrigation in the facilities of La Quinta Roja in order to assess the agronomic yield of the crop. There, the use of water is tested, so that the bases of efficient irrigation can be scientifically accredited.
Both Manuel Fernández and Valentín González highlighted "the importance of innovation and research in all economic sectors and especially in agriculture, especially taking into account the situation of water crisis in which we find ourselves."
On this "serious" issue, they stressed that "from the Cabildo we develop initiatives to improve and increase the capacity in the storage and distribution of water for irrigation in adverse weather situations such as the one we are experiencing." But, in addition, they valued "we are going to maintain a commitment to innovation and research in this area, which contributes to helping farmers to be more competitive and to have adequate resources to develop their activity."
The initiative financed by the Cabildo aims to carry out work to achieve the Sustainable Development Goals (SDG-UN Agenda 2030) related to the efficiency of irrigation and fertilization. The actions will be carried out exclusively in the area of ​​the Island of Tenerife, assisting those banana farms that are designated by the Irrigator's Office.