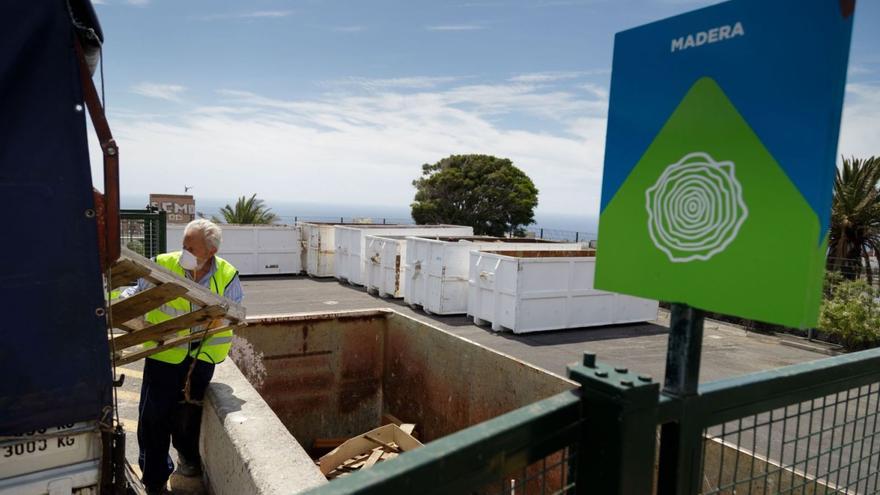 The Council of Tenerife seeks land in eight municipalities for the installation of new clean points with European funding. The Island Corporation has obtained, through the Next Generation Funds, 90% of the budget of 5.7 million euros for the construction of these infrastructures. When the process is complete, these spaces for waste collection will be doubled until reaching 16 in the network. The increase in facilities is aimed above all at alleviating the deficit in the southern area of ​​the Island.
The Island Area for Sustainable Development and Fight against Climate Change It has already requested the municipalities of La Laguna, Fasnia, Arico, Granadilla de Abona, San Miguel de Abona, Vilaflor, Guía de Isora and Tegueste to transfer land for the construction of these eight new clean points. It is the first step to launch a project that also contemplates the improvement of the infrastructures of five of the existing clean points.
To carry out this action, financing has been requested from the Next Generation funds for the implementation of the waste regulations within the framework of the Recovery, Transformation and Resilience Plan, having already obtained aid for 90% of said works. The implementation of the initiative is formed as a strategic action that seeks to bring waste separation closer to the public. It is connected with the vocation of promoting the establishment of a recycling industry on the Island.
The Cabildo de Tenerife, as responsible for the Public Service for the Management of Urban and Assimilated Waste on the Island, has various infrastructures strategically distributed in various municipalities. This is the case of the Tenerife Environmental Complex (CAT), in Arico; four logistics centers, located in La Guancha, Villa de La Orotava, Arona and El Rosario, and eight clean points in Buenavista del Norte, La Guancha, La Orotava, San Cristóbal de La Laguna, Santa Cruz de Tenerife, Güímar, Arona and Adeje .
The intention is to add another eight to be built in Los Rodeos (La Laguna), Las Eras (Fasnia), the Environmental Complex of Tenerife (Arico), Granadilla de Abona, Las Chafiras (San Miguel de Abona), Vilaflor, St. John's Beach (Guia de Isora) and Tegueste.
Clean points are management infrastructures where all the waste that does not occupy ordinary municipal services is collected, but rather is deposited by individuals. This is the case of household appliances, computer equipment, end-of-life tires, bulky debris, etc.
Most of the waste is rubble. They are followed at the top of this particular ranking by wood, furniture, plastics, electronic devices and metals.
A necessity that marks the law
In Tenerife, no new collection points have been built since 2011, despite the fact that the island's PTEOR (Special Territorial Plan for Waste Management) establishes that there must be one for every 40,000 inhabitants and a maximum of ten minutes by car from each nucleus of population. The current eight are clearly insufficient and the Cabildo is now beginning the path to alleviate this serious deficit, until doubling these fundamental infrastructures for the correct collection of waste. Collection points are located throughout the Island. Thus, in the Metropolitan Area there are two: in Jagua (Santa Cruz Fishing Dock) and Taco (La Cuesta-Taco general highway, in La Laguna). In the South there are three: Valle de Güímar Industrial Estate, Arona (ascent to Valle de San Lorenzo) and Adeje (Armeñime crossroads). Finally, in the North there are three others: Buenavista del Norte (Los Pasitos); La Orotava (San Jerónimo Industrial Estate) and La Guancha (road up to the town center)| JDM