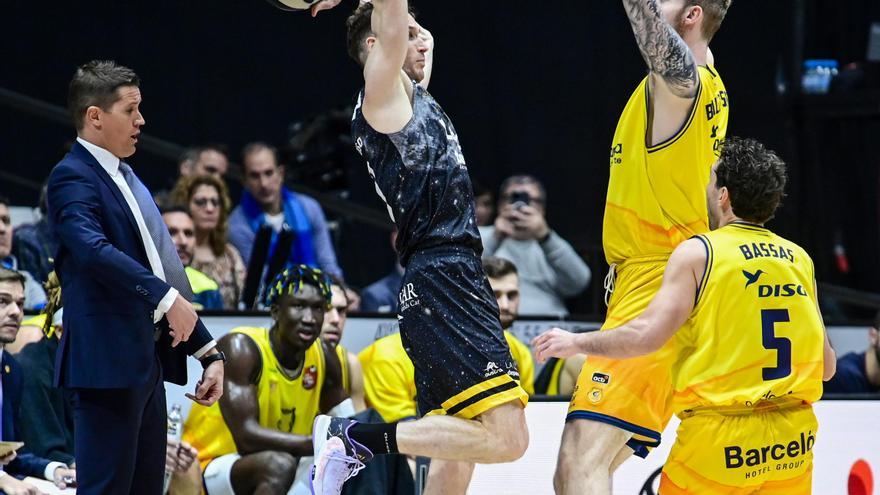 It's been two weeks since a Jaka Lakovic he will appear crestfallen in front of the media attending the Copa del Rey after the Claretian group fell at the first exchange against the lenovo tenerife hardly offering resistance beyond the first quarter of the crash. The face of the Slovenian in Badalona was that of a disgruntled man and now, on the eve of the clash against Surne Bilbao on Sunday (12:00 p.m., Movistar Sports 2), before the same witnesses, he did not go with half measures in terms of his perception of the derby. "I was angry with the Cup," said the Claretian coach.
Before the group directed by Txus Vidorreta the granca He did not agree with the defensive creed that Lakovic has been trying to implant among his players since the beginning of the season and that he gave so many returns at the beginning of it. For this reason, the strategist expressed that he hopes that his squad "will be us again", in a clear example of absorbing the ideas of the Balkan against the rival on Sunday. A team that averages 77 points, 6.2 less than the yellowsand is the fourteenth in this statistical section in the Endesa League.
Questioned about the performance of the Bilbao away from Miribilla, where he has won three times Of the nine times he has won, the Slovenian highlighted that this record is due to the "difficulty" of the Endesa League, so it is not a factor that he takes too much into account against "a team that plays in European competition".
Regarding the physical state in which he has been able to detect his squad after the international break, in which eight of his troops left with their national teams, Lakovic stressed that none returned with problems and away from injuries, although he has a small doubt. "We don't know where we are exactly at the moment" and therefore he understands the match against Bilbao as "a good test to see the reaction we should have after the Cup".
In addition, he confirmed the sports discharge of Oliver Stevic by overcoming their physical ailments, just as the player had confirmed to this medium last Thursdayand that prevented the team captain from playing the tie against Lenovo Tenerife. "He is recovered, working with the group and tomorrow we will decide who enters the squad on Sunday", clarified about the Balkan.
Finally, Lakovic emphasized the game of the first round of the league, in which Granca lost to their rival this weekend by 79-75 and therefore must win by four points if they want to beat the Men in Black average. . "So Bilbao could be a friendly team from here to the end of the season", The man who was Bilbao's coach five years ago and in which he made his debut as first mate stressed with a mischievous smile.