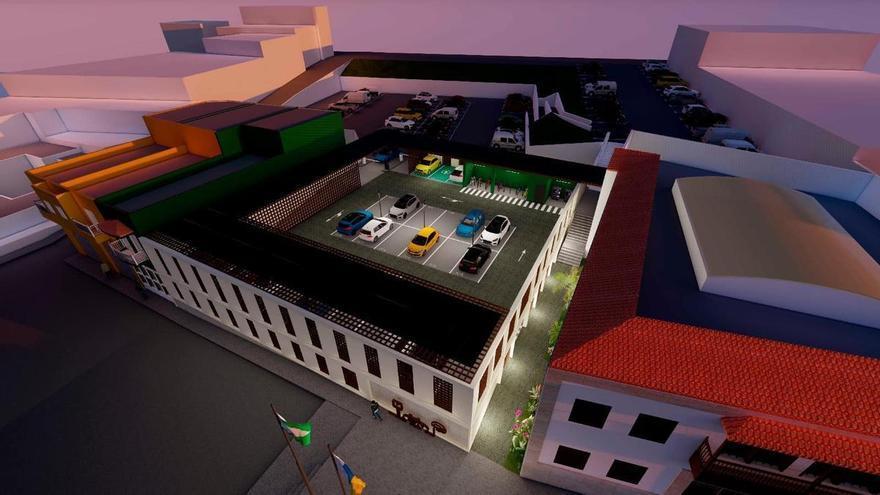 The public parking building on Pérez Díaz streetnext to the Town Hall Acentejo's Victoryhas just gone out to tender for €1,789,000. This is an old desire of this northern municipality, which hopes to soon convert the plot attached to the Town Hall into a modern parking lot, with 92 seats spread over five floorsof which only two are above ground.
This car park will definitively solve the parking shortages in the administrative and commercial center of The victory and it will also have "a sustainable character", according to the mayor, Juan Antonio Garcia Abreu (PSOE). It will be equipped with photovoltaic solar panels, which will help generate all the electrical energy consumed by the buildingand with charging points for vehicles, scooters and electric bicycles.
The property will be visually integrated into the space, without altering the surrounding aesthetics and without exceeding the dimensions of the City Hall building. For the mayor, this parking planned on a plot of 800 square meters it is "a reality that is getting closer and closer". The purchase of this plot dates back to 2014when its acquisition was agreed for just over one million euros, by paying five annuities.
In 2022, this project received a grant of 1,157,961 euros from the Ministry of Energy, Tourism and Digital Agendawithin its line of aid for local projects that promote the transition to a low-carbon economy and within the framework of the European Regional Development Fund (ERDF) of sustainable growth (2014-2020). According to municipal data, Perez Diaz street supports daily the passage of some 3,400 vehicleswhose drivers often have trouble finding parking in the area and, therefore, also generate more carbon dioxide emissions.
To finance the execution of the project, there is the aforementioned state subsidy, a contribution from council of Tenerife of 300,000 euros and around 330,000 euros of municipal funds. To Juan Antonio Garcia Abreu, "It is a pioneering action in the North, especially since it is an infrastructure with 100% energy efficiency, since it can be self-sufficient with solar panels." In addition, it announces that "in the future this property could be expanded and also serve to expand the dependencies of the Town Hall."
«It is a work that will benefit everyoneto the commercial fabric, to the residents of the town and to the visitors who come to our downtown area to learn about our historical and cultural heritage", stresses the socialist president, who is confident that "soon it can be tendered to be able to see the start of these long-awaited works".
24 neighbors improve public spaces
The City Council of La Victoria de Acentejo hosted this week the presentation of the first phase of the Extraordinary Social Employment Program 2023, which will give work to 24 unemployed residents and who over the next few months will collaborate in the improvement of various spaces public. These workers will be in charge of street cleaning actions and public environments, and the conditioning of municipal infrastructures. This project, which will last one year, will be carried out in two phases that will allow a total of 48 people to be hired. The first, which will last until the end of June, has allowed the hiring of painters, masons, construction laborers and cleaning workers. As detailed by the victorious mayor, Juan Antonio García Abreu (PSOE), this Extraordinary Social Employment Program has a budget of 213,723 euros, "financed by the Canary Islands Employment Service (SCE) and the City Council."