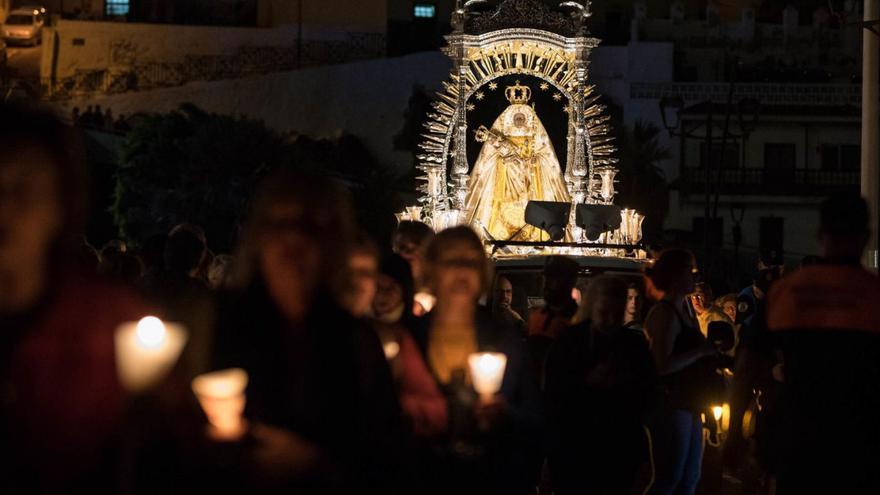 Without restrictions after two years, Candelaria begins the program of the liturgical feast of the Patroness of Canary Islands this weekend with a guided tour of the Camino Viejo. The act of most participation It is the procession of Las Candelas, which will take place at 7:30 p.m. on February 1 on Obispo Pérez Cáceres and Los Príncipes streets. At 12:00 pm on February 2, the main mass will begin and prior to the procession around the square.
The mayoress, Mari Brito, expresses her gratitude to the Community of Dominican Fathers and to the groups involved for the collaboration they provide to the Consistory to bring the Canaries closer to the Patron Saint. "Our Virgin is a very important symbol and we want all those who want to know, get closer and enjoy these days in Candelaria to be able to do so with all the facilities and being able to choose from an enriching offer", she points out.
Mari Brito calls to participate and enjoy the varied offer that Villa Mariana presents
This Saturday's guided tour of the Camino Viejo starts in Machado (El Rosario) and ends in the Plaza de la Patrona. At 8:00 a.m. and 6:00 p.m., masses will be celebrated in the Basilica. At 11:15 a.m., the Missionary March to the Basilica begins in Las Caletillas, where at 12:00 p.m. the bishop will preside over the Eucharist and there will be missionary animation until 4:00 p.m. At 6:45 p.m., the musical-poetic recital by Poetas Uni-verso, the Villa de Candelaria Choir and the Las Candelas Chamber Orchestra.
From Sunday to Tuesday the solemn triduum in honor of the Virgin will be hosted, with the Eucharist of the Triduum presided over by Fray Vicente Botella Cubells (6:00 p.m.), vice-dean and professor of the Faculty of Theology San Vicente Ferrer in Valencia, who will give the sessions Mariological Maria, teacher and pedagogue in the faith.
February begins with the Eucharist, blessing and procession of the candles prior to the Candelas procession, while the day of the Patron Saint of the Canary Islands (island festival) concentrates institutional acts. The civic procession leaves from the Town Hall to the Basilica at 11:30 am. The solemn Eucharist, presided over by the bishop and sung by the Orfeón La Paz de La Laguna, will begin at 12:00 pm and will be broadcast by Mírame Televisión. At its end, the procession of the image of the Virgin of Candelaria will take place around the Plaza, ending with the rain of flyers. At 5:00 p.m., the offering of drumbeats and the presentation of respects to the Virgin by the Tafuriaste Cultural Association.