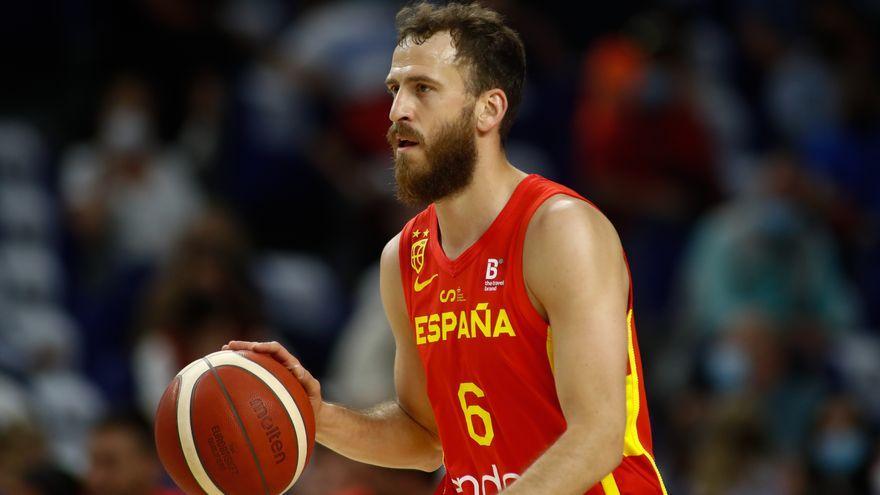 At 36 years of age, you know what it is to win a World Cup, a European Championship, two Euroleagues, a silver medal in the Olympic Games, you have played five seasons in the NBA… What do you propose in these last years of your basketball career that you have left for you? in front?
Continue enjoying, as at the beginning. I try to have fun and work hard every day to get to the matches in the best condition. I do it knowing, thanks to the experience of all these years, which are the most important moments of the season.
Almost 20 years as a professional in the European and world sports elite. Is it difficult to stay with a person throughout all this time?
I stay with a lot of people. Having been in several countries, many relationships with different people have opened up for me. It is difficult to choose, because there are many years and many teammates, both on and off the pitch; because I have also been lucky enough to share a dressing room with magnificent and important people.
You grew up in a relatively small place, but you have ended up playing in cities as important as Madrid, Philadelphia, New York, Moscow, Milan… Have you gotten along well?
It is true that this possibility has been raised to me, but I have lacked the ability to play in a warm place with a beach, which is what I was used to as a child. But I am proud of the career that I am living, and at the same time knowing that we depend on certain circumstances, because no matter how much you plan the future in a certain way, each moment places you, it leads you to know how to choose… and to be lucky in that choice.
And with those recent years in Milan, did you end up becoming a 'fashion victim'?
Nerd. From each place you are you stay with certain things, and in Milan fashion is one of the most prominent. Even more for our team, which allowed us to have a great relationship with Mr. [Giorgio] Armani, the president [Pantaleo] Dell'Orco, and with everything that was around the club, which was closely related to fashion.
He talks about 'Mr. Armani'. Was there respect and veneration for him?
Yes Yes. It was very important to us that he was present. He liked to come to watch the games, and we noticed it. That is why for us it ended up being a source of pride and also a great responsibility to play almost any game, both in the Italian league and in the Euroleague.
How does it take being the father of three children being a professional player?
Good. Trying to gain as much time as possible to be at home, something very complicated due to the amount of training, games and trips we have, especially with the Euroleague. Whenever I'm in Madrid I try to take the girls to school, and also pick them up if I've finished training. At least I try to be with the family as long as possible and enjoy it, because there is not time for much else. For me it is essential to be with them.
The beard that has accompanied him for years has ended up being almost an icon. Would Sergio Rodríguez be another without her?
I started keeping it after the 2012 Olympics, and it's possible that over the years it has become a characteristic that represents me; I feel comfortable with her. There was a first previous stage in my career, and another from my second year at Real Madrid, when I changed my routines a bit and faced the seasons better. And precisely those two stages are marked a bit by the moment in which I grow my beard.
And it seems that he is also in love with sports shoes…
Yes Yes Yes. It's something I've loved since I was little. I have been contracted with Adidas for 20 years and I have gone through all the models. It has always been something special to me. When I was in lower categories it was more difficult to change, but when you become a professional you enter heaven since you can be changing continuously.
How many times does the shoe change per year?
It depends on the season. When I was in the NBA, a lot; and now every two or three weeks. Depending on how the matches end. It seems like a lot of changes, but with the pace we have in the Euroleague, that's what it takes.
What do you miss most about Tenerife?
I left very soon, I have been away from the Island for longer than on it, and depending on the places I have been I have missed different things. My family, my friends, the weather… For example, when I was in Moscow it was quite hard to see how my surroundings lived in a way in Tenerife while we were surrounded by cold and snow. In this sense, perhaps I have an unreal feeling of Tenerife, because almost every time I go, everyone is on vacation or with free time. If I lived on the Island, it might not be the same. It is a place that I have very idealized because since I was little it was synonymous with weekends, long weekends or vacations. It is a refuge where I feel comfortable and where I want to go whenever I have time.
If I had to choose: El Médano beach or the hot dogs at Casa Peter?
I would find time for both of us, right? There are specific places where I have grown up and have lived very happy moments; And now, when I return with the family, we try to squeeze all the time to relive those things that I enjoyed as a child and of which I have very good memories.
It seems that, despite having been away for so long, the feeling of belonging to his Island and its people remain intact…
I think I do it in a very natural way, because I feel very comfortable with it. I can boast of having several groups of friends in Tenerife. My parents were teachers and that allowed me to meet people in La Matanza, then in Tegueste, then in El Ortigal… I also have friends in Tacoronte, in Santa Cruz… Generally it has been related to basketball, but it is true that I have several different groups. It is getting more and more complicated, and with the family even more so, but I always try to be with everyone.
After soaking up various cultures, what do you prefer, cooking or eating?
Eat eat. I am very bad at cooking and I like to eat more. The fact that? Well, almost everything; It depends on the site you are on. In Italy I have really enjoyed pasta, Parmesan cheese and gelato, which were staples in my daily diet; and when I'm in Tenerife, for example, fish.
Do you see yourself in the future as a 'businessman'?
It is something that I like, but I suppose that it will depend a little on the moment and the circumstances. Logically, with the money that I have been able to earn, I have made investments that I will have to be very close to in order to maintain a certain patrimony. A player's career is very short, and we are going to be many more years off the courts than we have been on them. The future will depend on our training, the relationships we have, and the circumstances of the moment we retire.