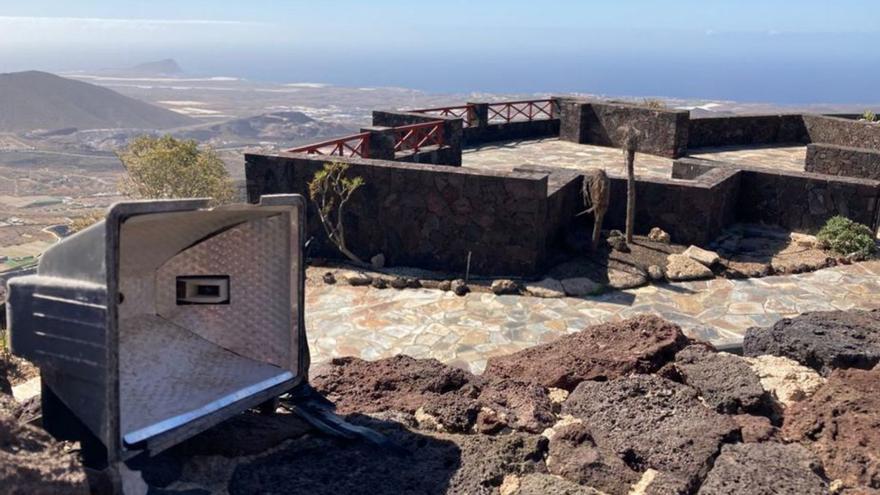 Canarian Coalition requests the immediate cleaning of the La Centinela Viewpoint and the start-up of the Jama Archaeological Interpretation Center. The nationalist counselor, Blanca Pérez, criticizes the situation of the space, "vandalized and deteriorated." For this reason, "we demand the immediate cleaning and arrangement and that the start-up of the museum be expedited."
The CC counselor recalls that last April the Cabildo approved a motion to reopen the facilities of the Mirador La Centinela, "but the PSOE has not done anything. Garbage continues to accumulate and urgent action is needed. The safety of the facilities must be guaranteed and the existing island heritage must be safeguarded".
Blanca Pérez explains that the San Miguel de Abona City Council is interested in using the facilities, "so the Cabildo must expedite the procedures to proceed with the implementation of the Archaeological Interpretation Center and study the transfer of management."
The facilities of the Mirador La Centinela are sized to house the Archaeological Interpretation Center of Jama and an area for restaurant services and a cafeteria (it already had it until its closure). "This favored tourism development and would improve the security of the facilities in an area as sensitive as Roque de Jama," he asserts.
The Roque de Jama Natural Monument, in San Miguel de Abona, is a protected natural space and an area of ​​ecological and cultural sensitivity.