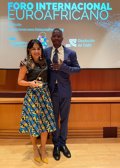 SANTA CRUZ DE TENERIFE, Nov. 26 (EUROPA PRESS) –
The Councilor for External Action of the Cabildo de Tenerife, Liskel Álvarez, has been recognized with the international Ubuntu award in the category of 'Women Leaders and Politicians with External Social Action for the Defense of Liberties, New Governance and Human Rights'. This is the second edition of these awards, organized by the Euro-African International Forum.
Liskel Álvarez thanked this recognition "for the work carried out in recent years from the Cabildo's External Action delegated area, together with the team led by Pedro Martín, who has maintained the defense of Human Rights as pillars, the commitment to an integrated and inclusive economy and the improvement of global governance, with special emphasis on the agenda of the Sustainable Development Goals".
The CEO valued the line of collaboration maintained by the Cabildo with administrations, entities and organizations that operate in Africa to promote actions that improve the living conditions of individuals and families in situations of social and economic vulnerability. "The Cabildo has spent two years promoting a line of subsidies of 400,000 euros to finance international development cooperation projects through NGOs and other cooperation agents in vulnerable territories," she stressed.
The award ceremony took place in recent days in Cádiz, a meeting that brought together business, social, political, cultural leaders and human rights defenders in Africa. The call served to generate strategic alliances and bridges between the attending personalities and authorities.
Through this type of awards, structured in different categories, the organization has rewarded people and institutions that in recent years have been characterized by their strong commitment to development and in terms of human rights in countries and territories of the African continent.