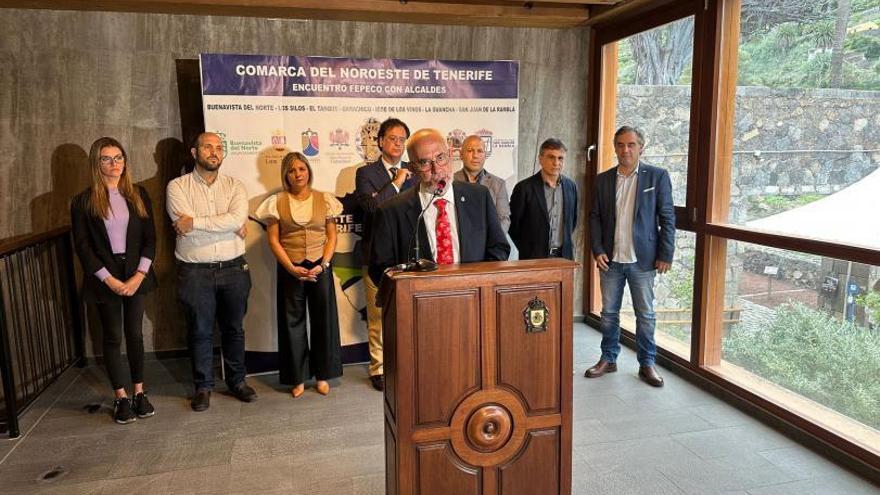 The mayors of Icod de los Vinos, La Guancha, Los Silos, Garachico, Buenavista, El Tanque and San Juan de la Rambla participated in a working breakfast with the Provincial Federation of Construction Entities of Santa Cruz de Tenerife (Fepeco). The president of the employers' association, Óscar Izquierdo, defended that the Northeast of Tenerife requires more and better attention and criticized that "there are for those who seem that the Island ends in Los Realejos."
The president of the employer's association demands for the area "attention from the Cabildo and the canarian government but, above all, investment" in terms of infrastructure and essential services.
The region, which accumulates 5% of the island's population, demands solutions to relevant issues, especially in terms of communication. Izquierdo conveys that it is urgent to close the insular ring to the North, "without leaving important population centers isolated", and to speed up actions towards the metropolitan area. The current situation "bleeds the census".
The mayors of the Northwest of Tenerife «have carried out an exercise in politics as a public exercise.
Echoing the demands made by the mayors to the fifty businessmen who participated in this meeting, Óscar Izquierdo emphasized that "it is unacceptable that the Hospital del Norte is not operating with the portfolio of services that corresponds to the needs of the entire region and what defines a hospital. It is a necessity".
In terms of tourism, it calls for a plan for the rehabilitation, reform, maintenance and conservation of the historical heritage of the area "as a claim for a cultural tourism market as another element that generates economy." A line that includes rural tourism.
Likewise, it demands solutions to solve the problem of quality water for consumption and agriculture, as well as sanitation and supply.