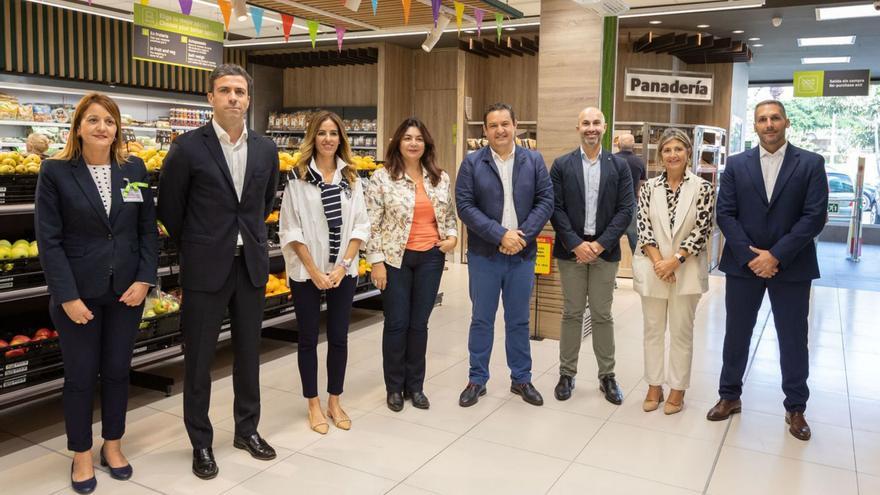 The Mayor of Arona, José Julián Mena, and the Councilor for the Economic Promotion Area, Raquel García, accompanied by the Commercial and Operations Director of HyperDinoOlivia Llorca, the director of Legal and Expansion, Margarita Cejas, and the director of Marketing and Communication, Carlos García, have visited the new SuperDino establishment of the municipality, which is located on José Antonio Tavío avenue, number 2, in Costa del Silence.
Also present at the event were the HiperDino store coordinator in Tenerife and La Palma, Daniel Peña, the area sales manager, Javier García, and the store manager, Eva Pérez.
The bet company made an investment of 1.9 million euros in this Supercor store, which remains open to the public with a schedule that covers from Monday to Sunday, from 08:30 to 22:00. The establishment has more than 700 square meters of sales room and the assigned staff is made up of 38 people.
Inside it has sections such as delicatessen, butcher, bakery and greengrocer, among others. Likewise, it has other complementary services, such as a parking area and home delivery service.
About HyperDino
HiperDino is the leading chain in the food sector in the Archipelago and the only one with 100% Canarian regional coverage. Currently, it has 232 stores and works with more than 13,000 references, of which 40% correspond to local suppliers. In addition, it is the leading company in the creation of jobs with more than 8,400 workers, the company assures.
Present in five of the eight islands of the Archipelago, it reaches seven of them through the hyperdino.es online store. This channel, created in 2015, has all the products available in Hiperdino's physical stores and, among the advantages it brings, the company highlights the fact that the customer receives the purchase the day after it has been made.
HiperDino also has two exclusive preparation centers for online purchases, in addition to 34 DinoShop franchise stores.
Through the Foundation DinoSun, Hiperdino collaborates in solidarity with various actions supporting the social and cultural development of the Canary Islands. In addition, it pays special attention to the people who are part of HiperDino.
It should be remembered that the company is expanding its logistics center located in the Valle de Güímar Industrial Estate by more than 15,000 square meters, with an investment of more than 16 million euros.
The works, which began in April 2021 with the demolition of the warehouses surrounding the platform, will end in mid-2023. The HiperDino logistics platform, which today has 19,000 square meters, will now have 34,000 square meters. once this extension is completed.