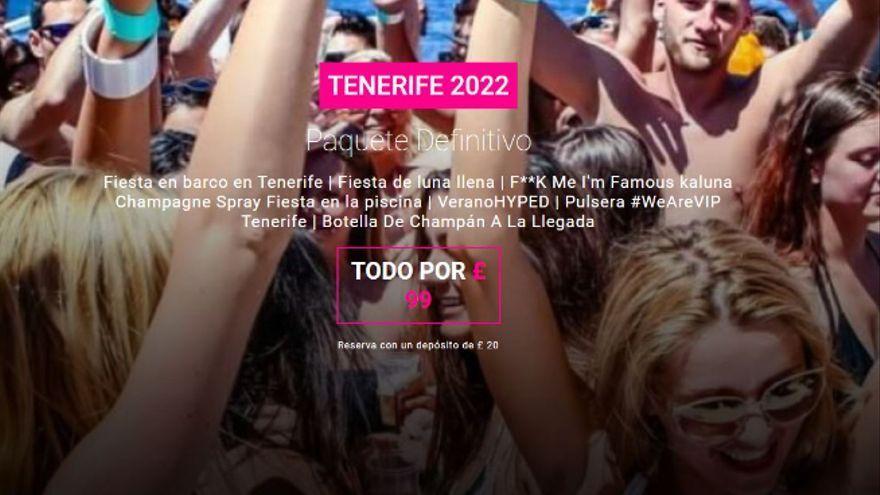 A website specialized in selling travel packages has included Tenerife among its star destinations this season. The offer, with a more than affordable price, includes parties in a club pool, on a boat with an open bar and even a party with celebrities.
However, the activities are not the main attraction of this special package since the company's marketing strategy is aimed at debauchery. Thus, it promotes the Island as a "popular destination among bachelor and bachelorette parties and young partygoers who looking for sun, sand and sex cocktails on the beach".
My Party Holiday, which is the name of the website, claims to have prepared an agenda for the island's tourists to "guarantee that the holidays are unforgettable" and promises to enjoy "some of the naughtiest events on the Island".
A party on a boat with three hours of open bar; a tour of the best bars in the south of the island and with free round of shots two hours plus entrance to "one of the best clubs in Tenerife; a daily session in a beach club with the best DJs in Tenerife and "hostesses available to serve cocktails"; body painting to end "the wildest night" in a well-known Tenerife nightclub, attending the Full Moon Party with acrobats, fire and buckets of cocktails, and, to close the trip, an exclusive party where you can meet celebrities from various television reality shows, such as Love Island.
The offer has not gone unnoticed on social networks, where the promotion of Tenerife as a drunken destination has raised not only criticism of the tourism strategy of the Canary Islands but has also reopened the debate about the model of the sector that should be followed in the Archipelago.
In addition, it joins lament of the workers of the sectorespecially in the south of Tenerife, which have long been crying out against a specific type of tourist: young, with an excessive desire to party, with a tendency to generate coexistence problems and generally with a high level of drunkenness.