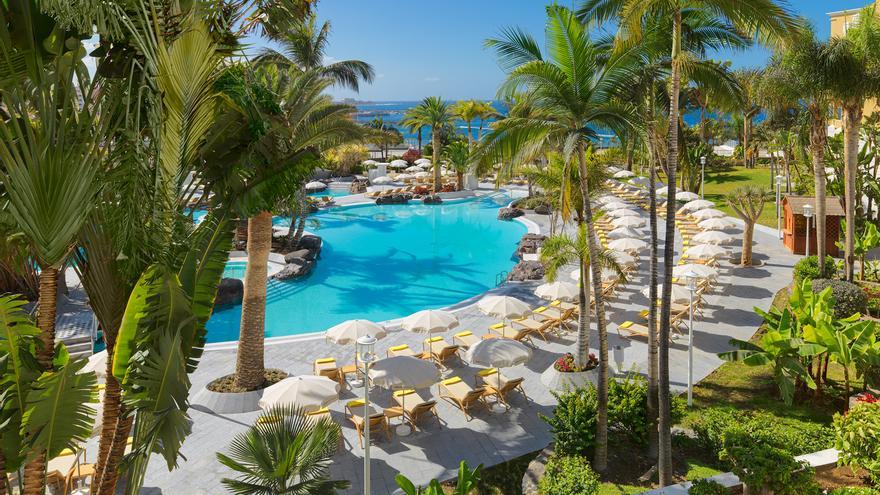 On June 6, 1997, the hotel opened its doors Nivaria Gardens from the hand of the Adrian family a project that was born full of hope and is now 25 years old.
The Jardines de Nivaria hotel reaches its 25th anniversary as one of the best 5-star hotels in the south of Tenerife, and to celebrate it has opened a special promotion for Canarian residents with a 25% discount for reservations in the months of June, July and August.
This accommodation located on the front line of the emblematic Fanabe Beachwas the chain's second establishment and one of the first 5-star hotels in Tenerife South, that has been consolidated by its treatment of customers, a sign of identity that makes the difference. Jardines de Nivaria has been awarded and recognized, both nationally and internationally, throughout these 25 years of history, for being an icon of Costa Adeje and an example of trust, commitment to sustainability and corporate social responsibilitywhich reward their customers with their loyalty year after year.
The hotel Nivaria Gardens Tenerife has been designed as a real Botanical Garden, in which its central building stands out with a large atrium with a leaded glass dome of 12,000 pieces made by hand, which represents the constellations seen in the sky of Tenerife on March 21. This emblematic hotel has 271 rooms172 of them doubles and different types of suites, with the best views of the sea in the south of Tenerife, where you can enjoy the sunsets that the Atlantic Ocean offers. This 5-star hotel has two swimming pools, one of them with heated salt water, as well as an exclusive spa, the Aequor Spa, a complete gym, a tennis court and a Putting Green for sports fans. golf in Costa Adeje.
The Jardines de Nivaria hotel hides a jewel of the gastronomythe La Cupula restaurantawarded a Sun of the Repsol Guide and recommended in the recognized Michelin Guide. This five-star hotel has three avant-garde restaurants with creative and gourmet cuisine to choose from, four bars, each with its own atmosphere, and spaces designed to relax and socialize in a cozy atmosphere, the essence of the Tiffany terrace bar.
Nivaria Gardens Hotel It receives its name from the term with which the Romans knew the island that was later renamed Tenerife. Within its walls there is history, tradition, innovation and modernity with a "human touch" that identifies this family hotel. This hotel is also a small museum, which houses paintings by Cesar Manriquede Fierro, paintings by Pepe Carazo from Burgos, two mirrors from the end of the 18th century, different bronze sculptures and Chinese porcelain, as well as the Wallae fountain made of iron and bronze.
This hotel in Fanabe Beach It has five buildings, alluding to different places on the island, Masca, Ucanca, Guajara, Taganana and Adeje, all of them with a unique design, in Art-Deco style and typical Canarian architecture, which coexists with pieces of contemporary artantiques and paintings.
The Jardines de Nivaria, on its 25th anniversary, has prepared a special promotion for Canarian residents with a 25% discount for reservations this summer, with the aim of opening its doors to the islanders so that they can get to know this corner of Costa Adeje.
A great birthday party in Costa Adeje
The Jardines de Nivaria hotel turns 25 and has celebrated in style. To celebrate this five star hotel in Costa Adeje has reached its 'silver anniversary' the team has organized a great anniversary party on June 24th.
The celebration was enlivened by the best live music in Tenerife with the well-known Canarian music group The Screensaversplus a fireworks show.
With this great party, the Adrián family wanted to thank the trust of its clients, workers and suppliers, who have gone hand in hand in this journey of the hotel chain for 25 years.
Most of its clients are loyal to this hotel establishment, and it is that in Nivaria Gardens the owner family gives everything to make you feel at home. The secret, they say, is in its elegant, distinguished and welcoming atmosphere, but customers see something else, the quality, simplicity and kindness that Don Rafael Adrián and Doña Aurora Ruera give off in their guest house. At this hotel, the staff of professionals are friends, a family, devoted to exquisite treatment thanks to which they have obtained numerous distinctions that, since 1997, mark the history of Jardines de Nivaria.
In November 2005 the Adrián family grew a little more when they excitedly inaugurated their third hotel: the Roca Nivaria Gran Hotel, in Paradise Beach, Tenerife. Its swimming pools and its wide range of sports, health and beauty make this hotel a place designed for families, couples and all those who are looking for an oasis of tranquility in a family atmosphere. The Adrián family's offer is completed with the Colón Guanahaní (4*), a haven of peace in Costa Adeje for adults only. Despite being in the heart of Costa Adeje, this corner is pure calm, a privileged space that the Adrián family runs with dedication and enthusiasm.