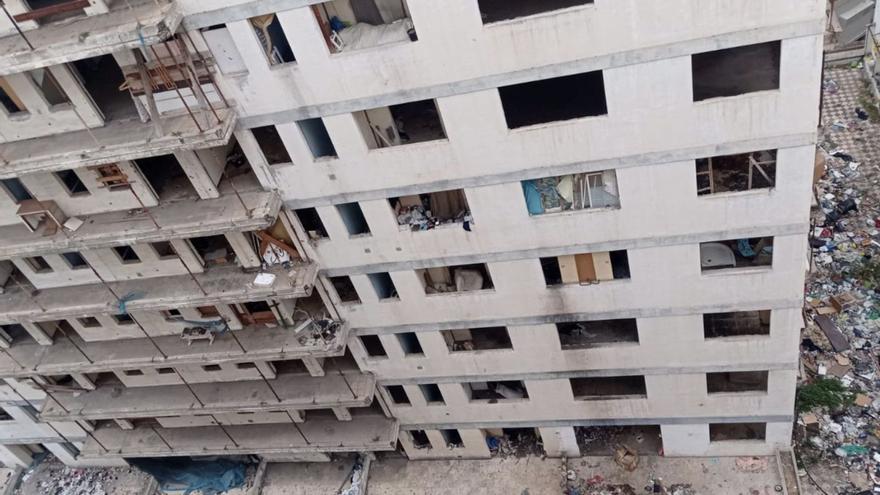 The Iders situation has exhausted the patience of neighbors and businessmen on Familia Betancourt and Molina avenues, fed up with garbage, squats, scandals, fires, bad odors, rats, drugs, fires, insects and an unfortunate image that has lasted for more than three decades and that "every day it gets worse".
The people who live or work in the surroundings of the Iders building, in the central avenue of Familia Betancourt and Molina in Puerto de la Cruz, have reached the limit. 31 years after the eviction of this property due to an aluminosis that was not; neighbors, businessmen and workers are fed up with the endless decline of the Iders and so many unfulfilled promises. Fed up with garbage, squats, scandals, fires, bad smells, rats, drugs, insects and an unfortunate image that "is getting worse every day." They will take to the streets to protest next June 28, from 11:00 a.m. to 1:00 p.m., and they have just released a song that makes it clear that the Iders is "the shame of the Port."
More than a dozen communities of owners, where around a thousand residents of Porto reside, have appointed Eduardo Luis as spokesperson for the group of those affected by the Iders situation, among whom are also the businessmen and workers who try to make a living together to a monument to laziness. "In July 2021 we were told that this property had been declared unhealthy and that it was a matter of days before cleaning and disinfection of the interior and exterior of the building would begin. Almost a year has passed and nothing has been done. Not everything is the same, it's worse, "laments Luis.
«Fires and scandals are continuous; every day there is more garbage; rats look like rabbits; the squatters fight, argue or relieve themselves in the gardens of the avenue in broad daylight. There are not as many living there now as during the pandemic, but the worst have stayed. There is even one that is dedicated to renting the spaces. The situation is unsustainable and from the City Council we only receive excuses and more excuses, "says Eduardo Luis.
The cleaning that does not arrive
What bothers the neighbors the most is that, eleven months after the cleaning and disinfection of the Iders was announced, "absolutely nothing has been done." Garbage accumulates outside, "but inside there must be many tons." The Porto Town Hall alleges difficulties in finding a company willing to intervene in a dilapidated building occupied by people who, in many cases, suffer from addiction problems or mental disorders.
Their demands are clear and old. They want the people who live there in unhealthy and undignified conditions to be evicted and to proceed with the cleaning, disinfection and walling up of this private property in ruins, where there are elements of balconies and terraces that also threaten to collapse. Eduardo Luis does not set big goals: «We simply ask that they do something, anything but continue as before. Let them start with something to change that unfortunate image.
After almost a year waiting for the cleanup, they have stopped believing in the local authorities: "There is no way for them to act and we no longer believe anything. People are very fed up and we no longer know what to do to be able to live in peace. The neighbors want to make it clear that the one on Tuesday, June 28 will be "a peaceful concentration", with which they intend to draw the attention of any administration that can help solve this serious problem for health, image and coexistence. Residents and businesses have turned around and already have banners ready with which they hope to send an unequivocal message. To prepare the mobilization, they have just released a music video with a song that, to the rhythm of rap, denounces that «in Puerto de la Cruz nobody imagines that there is a building there that is in absolute ruin. However, there is one that offers this mistake, it is the Iders building, and it is the shame of the Port».
"A makeshift shelter, and the worst ending: junk drug addiction, squatters, fights, screaming, fires; live it is not a mirage; explosions, rats, blows, is what tourism observes. A sad and ugly image, a reflection of the system. What do the authorities do in the face of such a problem? », continues the song, which will also set the scene for the protest.
"Month after month and year after year, the Iders fell into disgrace," recalls this theme, whose chorus insists over and over again that "the Iders building is the shame of the Port." Those who have suffered it daily for more than three decades have hoped that, by finally going out on the street, "this all-you-can-eat buffet for rats will end", and they ask themselves: "Why do we have to continue living surrounded by of garbage?".