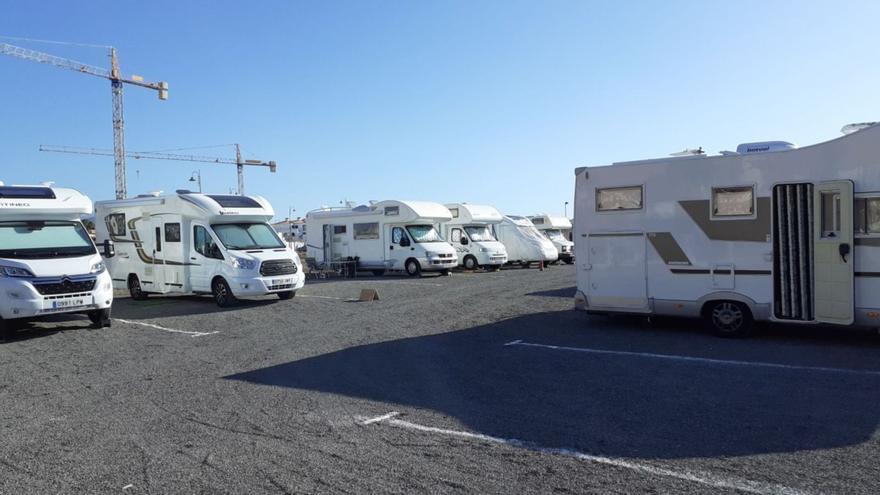 "More than just a hobby, it is a way of life». This is how he sums up motorhomes Juan Martin Beltran, president of the Ecological Association of Motorhomes Club Costa Adeje (ACAT). A way to spend leisure time with friends or family outdoors, safely and with the house in tow. A booming phenomenon that has more and more followers in Tenerife, where thousands of people take advantage of the weekend or holidays to travel the roads. The absence of regulation, the lack of specific spaces or a certain social stigma These are aspects that Beltrán faces during the dialogue.
It clarifies that ACAT "watches over the interests of users of approved motorhomes and campers." Add that "we are not a campers club, although we respect all options". He considers that "we all fit: motorhomes, campers, caravan drivers and campers. Let each defend their interests with the same common goal. We have rights and obligations, we ask for the same treatment and that the law is complied with.
One of the problems of the group is the sanctions related to Traffic regulations, which are usually imposed by municipalities based on the powers delegated in Road Safety and Mobility. Martín assesses: «They have made sides with the idea that there would not be a common front in defense of our interests and they were right, until now. But what they have achieved is to wake us up from lethargy and for us to start defending our rights."
There are also complaints from neighbors, who do not like motorhomes "because they take the place of their cars," he says. From the municipal level "they reduce our constitutional right to park freely on public roads like any other vehicle." He adds that "there is no legal basis to move only us." In short, "a confusing panorama because the administrations do not look for the solution, but only choose to prohibit".
on the rise
There are more and more fans of motorhomes. He bases it: «It is a way of life as the owner of your own destiny and how you want to live it. And in solidarity, both with other drivers and with the neighbors where we parked. Do not forget, "the tranquility and security of traveling in your bubble-housing, without mixing, if you do not want".
Specific areas.
ACAT appreciates "the long-standing promise of the Cabildo on recreational areas that include spaces for our vehicles, but it has not just come true." They ask that "you count on us, we have the experience of having seen, been in and used this type of infrastructure throughout Europe and we can be of great help; We would be happy to do it for free." He emphasizes that "we are not looking for parking and overnight points, because for this we already have public roads, but we do demand places that have an ecological point for emptying, filling and a garbage container. Thus, wherever, and the more, the better».
Normative.
Juan Martín reflects: "We seek no more than a single objective: the freedom to travel, park, spend the night or camp. This is reflected in both the Road Safety Law and the Constitution. It also claims "infrastructures for our vehicles, which should be regulated and offered from the moment they are approved by the Ministry of the Interior, pass the ITV and insurance, filming, etc., is paid, like anyone else. Therefore, the same rights. Request that Instruction 08/V-74, specific for Motorhomes and Campers, of the General Circulation Regulations be complied with. It states that "the exclusion of certain users must necessarily be motivated and based on objective reasons, but not by their construction or use criteria or for subjective reasons."
Stigma and solidarity.
Martín values: "If society notices the rejection and animosity towards motorhomes, especially from some politicians, there comes a time when they believe that it is true." It makes it clear that "although there are those who camp on public roads, the sambenito is already hanging from the motorhomes; if you see it, report it, but do not demonize us or make us pay the just for sinners». He invites you to visit any web page and see what a motorhome is like, autonomous vehicles "with what is necessary to avoid dirtying places that we usually leave cleaner than how we found them." He considers that they have a stigma attached to them and the answer is "wanting to know how we lived this experience and being objective". He believes "unquestionably" that motorhomes "generate wealth and create economy." Also solidarity, such as the collection of material for La Palma, the donation to the Red Cross of Isla Bonita and the exemption of the 2022 quota to the 17 palm members of the group.
The example of San Miguel.
The president of ACAT values ​​"very positively" the specific regulations for approved motorhomes and campers approved unanimously on November 25 of last year in the San Miguel de Abona City Council. "One step," he summarizes. It is also clear that "motorhomes are still on the rise due to the safety and comfort provided by the vehicle, the sensations and the places you visit with your house on wheels." Remember «the isolation in times of pandemic and confinement in 2020, when several city councils enabled spaces for our vehicles. The wave passed and back to the starting square ». It concludes with a message to fellow caravan adventurers to invite them to visit Tenerife: «Enjoy the unique landscape, gastronomy, culture, beaches, mountains, trails… And the people. That they ask if they don't know, that they respect the environment and that they get good vibes. I'm sure they'll come back."